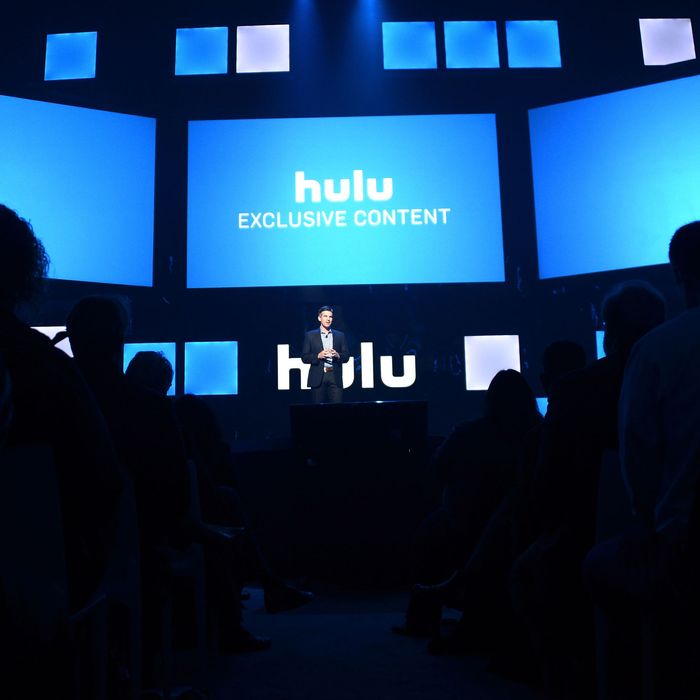 Hulu: still a weird name, but now with livestreaming TV.
Photo: Michael Loccisano/Getty Images for Hulu
Hulu's livestreaming plan, officially called Hulu With Live TV (it just trips off the tongue) is now in "beta" today and available for $40 per month, bringing the count up to five total livestreaming services you can pick to watch cable TV. So how does it compare to the other four players?
Hulu's service will come with around 50 channels — the exact number will be different, depending on your local affiliate availability. It's good for sports and news: ESPN and its various offshoots are represented, as is Fox Sports — and CNN, MSNBC, and Fox News are all there.
You also get access to Hulu's current streaming collection, which puts the most daylight between it and every other livestreaming service. While most offer some limited video on demand, Hulu has an impressive library: You'll get access to the entire back catalogue of Seinfeld, and new episodes of shows like The Handmaid's Tale and The Mindy Project. Older shows stream with commercials, unless you upgrade your plan to no commercials, which will run you $44 per month.
It also comes with 50 hours of DVR storage, though it's unclear how long things stored on your DVR will stick around. If you want to increase how much you can keep on your DVR, you can upgrade for $15. You can currently stream to two devices at the same time, to upgrade to more is $10. (You can upgrade both the DVR and the number of devices you can stream to for $20.)
The major downside is that there are some pretty significant gaps in the channel lineup. AMC channels are missing, so no AMC, IFC, or BBC America (even though some AMC shows are available to stream in Hulu's back catalogue). Viacom-owned channels are still only available on Sling TV and DirecTV Now, so no Comedy Central, MTV, and every other Viacom-owned channel. There's nothing from Discovery Communications as well, so no Discovery or TLC. There's also no CW (sorry Riverdale fans). And there's also no option to add HBO, though you can grab Showtime for an additional $9 a month.
There's also the issue of device support. Hulu's recent redesign looks great in your browser and on its iOS and Android apps, but right now the only streaming devices that support livestreaming through Hulu are Xbox One, Apple TV, and Google Chromecast. (Support for other devices is "coming soon.")
Sling TV still offers the most channel availability and the most flexibility of any service out there (and supports the broadest range of streaming devices currently). But Hulu is offering something somewhat comparable that also comes with thousands of other movies and TV shows to watch. If you've already signed up to watch The Handmaid's Tale and are thinking about canceling your cable service anyway, Hulu suddenly has a very compelling argument for cutting the cord altogether.