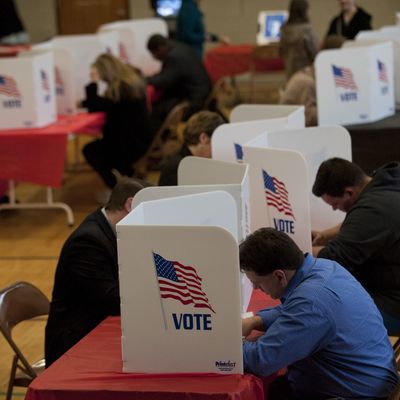 States are beginning to remove registration as a separate bureaucratic step in exercising the right to vote.
Photo: Jeff Swensen/2016 Getty Images
With the unanimous passage in both the Illinois House and Senate of automatic voter registration (AVR) legislation, it is safe to say this particular reform is moving along rapidly with bipartisan support.
To make a long story short, AVR takes the 1993 "Motor Voter" concept — giving people an opportunity to register to vote when they engage in common interactions with state agencies like obtaining a driver's license — and takes it up a notch. While "Motor Voter" was an "opt-in" system, AVR is "opt-out" — eligible voters are registered unless they choose not to let their names go onto the voting rolls.
The reform was first enacted in 2015 in Oregon and California. Oregon was the first state to fully implement the system, and it produced nearly 100,000 new voting participants (out of 225,000 eligible voters automatically registered) in the 2016 general election. The District of Columbia, Vermont, and West Virginia approved AVR legislatively in 2016; Connecticut and Georgia instituted similar systems administratively the same year. Alaska voters approved AVR in the November 2016 elections. Colorado joined the movement in 2017, and now (once some House and Senate differences are worked out) it seems Illinois will as well.
The sheer logic of the idea has caught stealth advocates of voter suppression more than a bit off-guard. Yes, there have been specious complaints that AVR would make it easier for non-citizens obtaining driver's licenses to register to vote. But the new systems typically screen out people who obtain driver's licenses with documents that do not establish their eligibility to vote. So it's really just a matter of removing voter-registration requirements as a weapon for voter suppression, and exposing those who just want to make it harder for eligible voters to participate in elections.