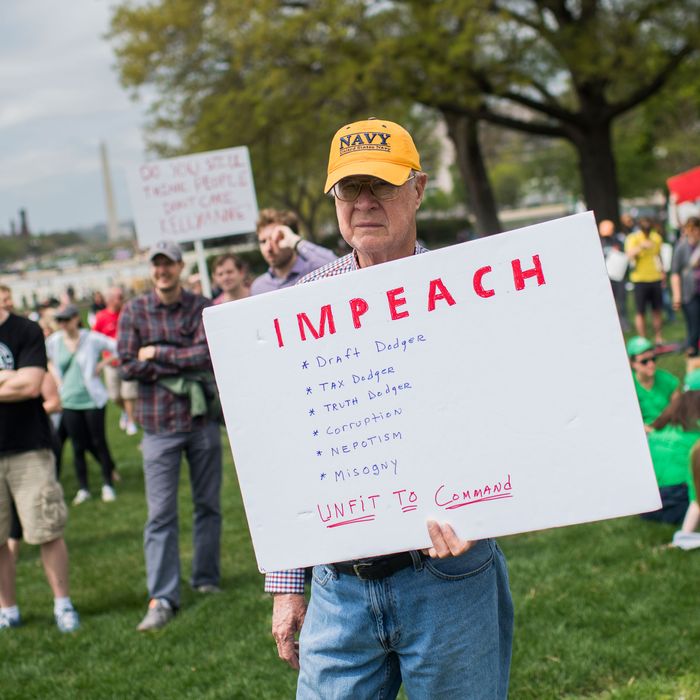 Support for Trump is solidifying. So, too, is support for his impeachment.
Photo: Tom Williams/CQ-Roll Call,Inc.
There is a venerable centrist point of view that partisan polarization is a function of Washington's warring politicians, who inflate artificial differences into causes for political war. Out there in the country, it is thought, Americans simply want politicians to come together and work out sensible, centrist policies.
Whatever this gospel's general applicability, it is increasingly clear that in the era of Donald Trump it's The People who are even more polarized than their representatives in Washington.
A new poll from Morning Consult for Politico has this jarring news: After the president's first overseas trip, his job-approval ratings rose. But so, too, did the percentage of Americans who want impeachment proceedings against him to begin posthaste.
Indeed, we are rapidly approaching the point where Americans are basically divided between those who think the president's doing a good job (45 percent at present), and those who think he should be removed from office before his first term ends (43 percent at present).
Unsurprisingly, these sentiments closely match partisan preferences. According to this same poll, 82 percent of self-identified Republicans approve of Trump's job performance, 46 percent of them strongly. Seventy-nine percent of self-identified Democrats disapprove of Trump's job performance, 65 percent of them strongly. These grassroots Americans are really, really at odds.
That becomes even more obvious when the possibility of impeachment is introduced. Seventy-one percent of Democrats want Congress to initiate impeachment proceedings. Over half of these impeachment supporters say Trump is unfit to serve, whether or not he has committed an impeachable offense. Seventy-six percent of Republicans oppose the idea.
For all the talk about anti-Trump Republicans and moderate Democrats, the truth is there is not a lot of support out there for anything other than the highly partisan approach Trump and the congressional GOP have taken this year, and for what some Democrats have called "the resistance."
When we get to the point where nobody is left between Trump supporters and impeachment supporters, maybe that will finally become obvious: There really isn't any middle ground right now.