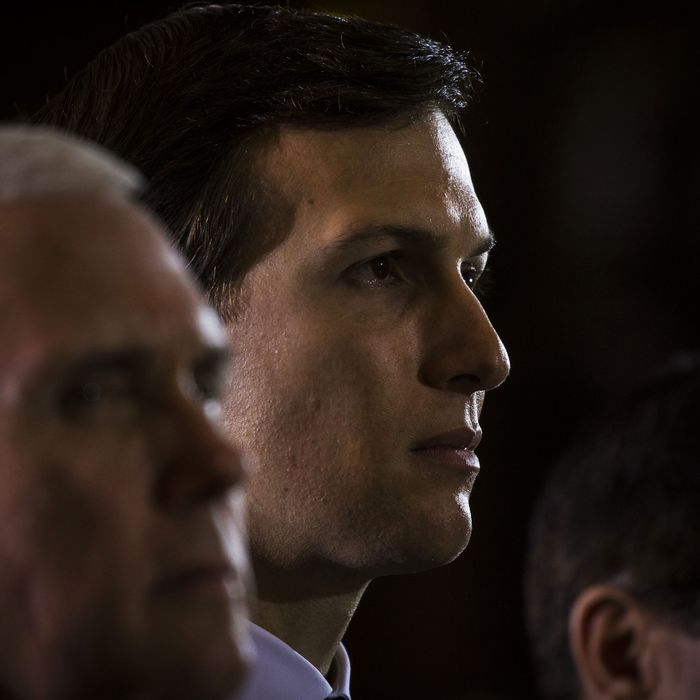 Kushner.
Photo: Samuel Corum/Anadolu Agency/Getty Images
Jared Kushner was supposed to be a voice of reason – or, at least, of kleptocratic pragmatism. When president Trump wanted to celebrate his 100th day by starting a continent-wide economic and diplomatic crisis, Kushner urged restraint. And when Steve Bannon and Scott Pruitt implored the president to sour America's relationship with virtually every other country on the planet for the sake of withdrawing from non-legally-binding climate change agreement, Jared was there to say, can we not?
So, when Trump showered his own presidency in gasoline and lit matches last week – and proceeded to toss a few new logs onto the fire each day since – Kushner must have been shouting his objections while trying to activate the White House sprinkler system.
Or so one might have thought. According to the New York Times, Kushner was actually fanning the flames. Here's the paper's account of the scene in the Oval Office, right after news that deputy attorney general Rod Rosenstein had appointed a special prosecutor came down:
Most of those gathered recommended that the president adopt a conciliatory stance and release a statement accepting Mr. Rosenstein's decision and embracing a swift investigation that would clear the cloud of suspicion hovering over the West Wing.

Mr. Kushner — who had urged Mr. Trump to fire Mr. Comey — was one of the few dissenting voices, urging the president to counterattack, according to two senior administration officials. After a brief discussion, however, calmer heads prevailed, and Mr. Trump's staff huddled over a computer just outside the Oval Office to draft the statement that was ultimately released, asserting the president's innocence and determination to move on.
Donald Trump has made a lot of poor decisions since taking the oath of office. But the one-two punch of asking James Comey to drop the investigation into Michael Flynn, and then firing the FBI director, may prove the worst mistakes of his tenure (for him, personally, anyway). Even if one assumes that Kushner was ignorant of step one – and, thus, did not know that Trump was freeing Comey to spill the beans about his (apparent) attempts to obstruct justice – it's still remarkable that he supported Comey's abrupt ouster. It shouldn't be difficult for a minimally intelligent pragmatist to intuit that firing the FBI director without a whisper of notice to him, and barely any to the White House communications team, could backfire.
Nor is it easy to see how such a rational character would conclude that the proper image for the president to project upon the announcement of a special prosecutor was vengeful rage, as opposed to cool confidence that further scrutiny would produce exoneration.
So: How should we account for Kushner's behavior. There is, of course, the possibility that he is somewhat less than "minimally intelligent." Alternatively, he could be wisely sycophantic: At a time when Trump is looking around the White House for aides to blame for his frustrations, there may be some benefit to being the adviser who suggests the course of action that Trump's most eager to take.
Or, maybe, Jared's scared.
Remember: If Michael Flynn got up to anything untoward with Russian operatives during the transition period, there's a decent chance Kushner did too. Back in March, the Times reported that the Senate Intelligence committee was looking to talk with Kushner about his participation in a meeting arranged by the Russian ambassador Sergey Kislyak:
Until now, the White House had acknowledged only an early December meeting between Mr. Kislyak and Mr. Kushner, which occurred at Trump Tower and was also attended by Michael T. Flynn, who would briefly serve as the national security adviser.

Later that month, though, Mr. Kislyak requested a second meeting, which Mr. Kushner asked a deputy to attend in his stead, officials said. At Mr. Kislyak's request, Mr. Kushner later met with Sergey N. Gorkov, the chief of Vnesheconombank, which drew sanctions from the Obama administration after President Vladimir V. Putin of Russia annexed Crimea and began meddling in Ukraine…Senate investigators plan to ask Mr. Kushner if he discussed ways to secure additional financing for the building during his meeting with the Russian banker, a government official said.
As Marcy Wheeler noted, that meeting could have provided important context for the conversation between Flynn and Kislyak about sanctions that ultimately cost the national security adviser his job:
[C]onsider how this meeting might interact with another known Kislyak conversation, the multiple calls with Flynn on December 29 after Obama imposed hacking related sanctions. In context, that conversation was about the hacking sanctions, not the more onerous Ukraine ones. But if Kushner had just met with a sanctioned bank and discussed those sanctions, that could change Kislyak's understanding of what Flynn was saying.
Anyhow, it's highly plausible that Kushner's transition from force of moderation to "voice of Trump's id" is the product of stupidity or sycophancy.
But it's also plausible he has something to hide.