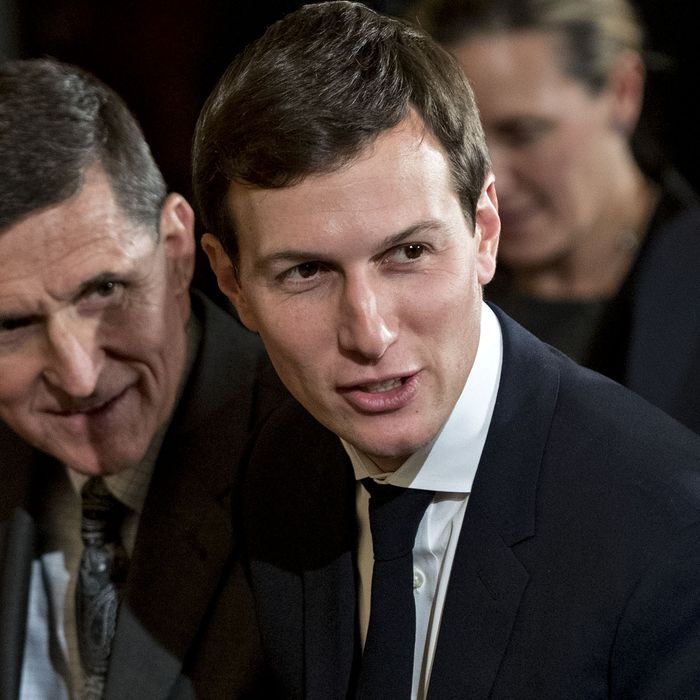 Kushner may need that flak jacket again.
Photo: Andrew Harrer/Bloomberg via Getty Images
Senior White House adviser Jared Kushner spoke with Russian ambassador Sergey Kislyak in December about setting up a secret backchannel for communication between the Trump transition team and the Russian government, reports the Washington Post, New York Times, and others. The request, which would have established a line of communication beyond the reach of U.S. surveillance efforts, apparently led nowhere, but was still either "extremely naive or absolutely crazy," according to a former senior U.S. intelligence official who spoke with the Post. Neither Kushner nor the White House disclosed the extraordinary inquiry until March, but Kislyak's report t0 his superiors regarding the proposal was intercepted by U.S. intelligence officials. Also present at the Trump Tower meeting was former national security adviser Michael Flynn, who was ousted from the White House in February as a result of other undisclosed conversations with Kislyak.
Reuters additionally reports that the December conversation was one of at least three previously undisclosed conversations that Kushner had with Kislyak since April of last year, and that, according to six sources, there may have been multiple conversations between the two beyond that. Kushner's lawyer, in response, claimed that Kushner "participated in thousands of calls" over that time and "has no recollection of the calls as described."
According to the Post (per the intelligence intercepts regarding the backchannel request), Kushner "discussed the possibility of setting up a secret and secure communications channel between Trump's transition team and the Kremlin, using Russian diplomatic facilities in an apparent move to shield their pre-inauguration discussions from monitoring" — a suggestion so abnormal that even Kislyak was apparently taken aback. Since the only point of conducting such communications would be to avoid surveillance by the U.S. intelligence community, news of the request alarmed American law enforcement and national-security officials. What's also strange is that the idea makes little sense since any visit by a Trump team official to a Russian diplomatic facility would have likely drawn the attention of the FBI, who routinely surveil such locations. An American's use of such a facility could also potentially compromise the security of Russia's communications methods, so it's unlikely Moscow would have ever even considered setting up the backchannel in that way to begin with.
Ultimately, the Times reports that the backchannel idea was never followed up on by the Trump team or the Russians, and was dropped altogether after President Trump named Rex Tillerson — the former Exxon chief with an already close relationship to Kremlin officials — as his nominee for secretary of State.
According to three officials "with knowledge of the discussion" who spoke with the Times, the backchannel was intended for secret talks between Flynn and Russian military officials regarding potential co-operation in the Syrian civil war, but it's not clear why such secret communications would have been required for that purpose. Obama administration officials told the Post that they were never approached by the Trump transition team about setting up a secure communications channel with Moscow, and any such request would have been unusual. The December meeting at Trump Tower was not monitored by U.S. surveillance, but while Kislyak's intercepted report appears to be the crucial source, it also seems unlikely that the Russians would have made up the details of the meeting as part of some disinformation campaign.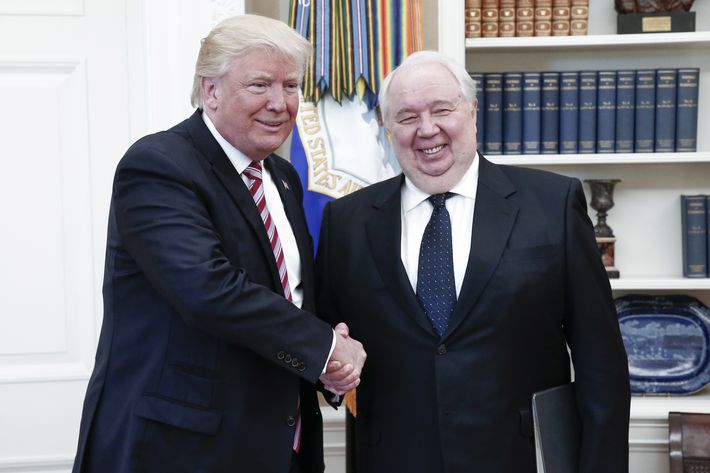 The discussion was not disclosed at the time by the Trump transition team, though it seems they did later disclose (and attempt to downplay) the meeting in March. The New Yorker also reported on the Trump Tower meeting in March, adding that the White House had said the purpose of the meeting was to develop "a more open line of communication in the future."
Speaking with The Atlantic, Brookings fellow Susan Hennessy, a former attorney in the National Security Agency's office of general counsel, notes another troubling possible problem with what Kushner reportedly requested:
For employee-security rules, the U.S intelligence community treats visiting a foreign embassy like visiting a foreign country. Many of the most significant examples of U.S. espionage all occurred through foreign embassies. […] Like Flynn, there's the possibility that Kushner put himself in a position to be compromised, because the Russians knew he tried to set up a secret channel.
"The idea of using Russian facilities to skirt Russian surveillance in the U.S. would either be a serious attempt to hide something or the actions of a young amateur," added the Foreign Policy Research Institute's Clint Watts, also to The Atlantic. Former acting CIA director John McLaughlan gave an even harsher assessment Friday on MSNBC, explaining that though he still wanted to know more about the exact content of the conversation, "I can't keep out of my mind the thought that, if an American intelligence officer had done anything like this, we'd consider it espionage."
The White House did not respond to requests for comment from the Post or Times about the meeting or Kushner's request on Friday; similarly, The Wall Street Journal was unable to reach Kushner's lawyer regarding the story. Speaking with reporters on Saturday, current White House national security adviser H.R. McMaster said that he was "not concerned" about the reports, adding that "we have backchannel communications with a number of countries," which allows the U.S. to "communicate in a discreet manner."
A few days after making the backchannel inquiry, Kushner, apparently at Kislyak's request, also met with Sergey Gorkov, a Russian intelligence officer turned banker with close ties to Russian president Vladimir Putin. Gorkov was one of the people sanctioned by the U.S. following Russia's 2014 invasion of Crimea. Reuters adds both that the FBI is looking into whether "Russians suggested to Kushner or other Trump aides that relaxing economic sanctions would allow Russian banks to offer financing to people with ties to Trump" and that Gorkov's bank, Russian state-owned Vnesheconombank, not only is under U.S. sanctions but also was implicated in a recent espionage case that led to one of its executives being jailed for spying. The bank has said that the meeting with Kushner was one of many conducted as part of a new corporate strategy.
Kushner did not disclose that meeting with Gorkov or the contact with Kislyak in his application for security clearance as a member of the Trump administration, which his lawyer has claimed was a simple error that Kushner quickly rectified.
Earlier this week, it was confirmed that Kushner, who is also President Trump's son-in-law, was one of the Trump officials being investigated as part of the ongoing FBI probe into Russia's intervention in last year's presidential election. Kushner and Flynn were among the Trump associates involved in at least 18 undisclosed calls and emails with people linked to the Putin regime in the seven months before the election in November, according to Reuters.
It's also worth pointing out, again, that Kushner may not have had any idea what he was even talking about when requesting the backchannel — and that wouldn't be the first or last time a member of President Trump's novice-stacked administration has done, said, or asked something bizarre and nonsensical. At least for now, there also continues to be no indication that Kushner is suspected of wrongdoing, or that he is even a central focus in the overall Russia investigation. It remains hard to see Kushner's naivety clearly, however, through all the intensifying smoke produced by his lack of effort disclosing his interactions with people linked to the Kremlin, as well as his reported efforts to stifle the investigation into those contacts. Trump administration sources have leaked that Kushner not only pushed President Trump to fire former FBI director James Comey, who had been overseeing the FBI's Russia investigation, but also to retaliate against Deputy Attorney General Rod Rosenstein for his decision to appoint a special prosecutor to conduct an independent Russia investigation.
Furthermore, while Kushner hasn't been interviewed by the FBI yet, that doesn't mean he won't soon be. A source close to Comey told The New Yorker's Ryan Lizza that the FBI not having interviewed Kushner is "either meaningless with respect to culpability or, pointing to the riskier side, the more likely that he's implicated, because the people you're really suspicious of you don't really interview until later."