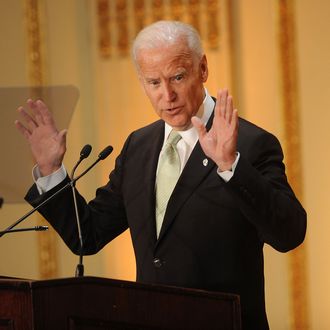 Joe Biden.
Photo: Brad Barket/WireImage
Like Michelle Obama, Joe Biden is trying to nip speculation about his future political career in the bud – despite what his busy schedule suggests.
Early on Sunday, Politico reported that the former vice-president is "keeping his options open" on another presidential run, talking with his staff about how to best position himself for 2020. He's lined up a slew of political appearances befitting a potential candidate, including a fundraiser for New York Governor Andrew Cuomo, and a speech to the Florida Democratic Party.
But later in the day during a speech at the annual state Democratic Party dinner in New Hampshire, where the nation's first primary is held, Biden denied that he's thinking of taking on Trump.
"When I got asked to speak, I knew it was going to cause speculation," he said to applause. "Guys, I'm not running."
The crowd booed and there were chants of "Run, Joe, Run."
Biden said that his current focus is raising money and campaigning to help Democrats get elected throughout every level of government. He said Democrats need to embrace the challenge ahead and reject the "false debate" within the party about progressive idealism versus standing up for the working class.
"Remember the core reason why you're a Democrat — we abhor the abuse of power, whether it is financial power, psychological power, physical power. Think about what made you a Democrat. It's the abuse of power. We've got to remember who we are," Biden said.
Ted Kaufman, Biden's longtime friend and adviser, suggested that Biden hasn't really made his final decision on his political future. "That's a long way off. It'll be a long time before he'll have to think about that. And a lot will depend on where he is, where the country is, where the party is," Kaufman told CNN. "Who knows where this presidency's going to be after 100 days? It's pretty daunting to predict where we'll be 100 days from now, let alone a year from now."