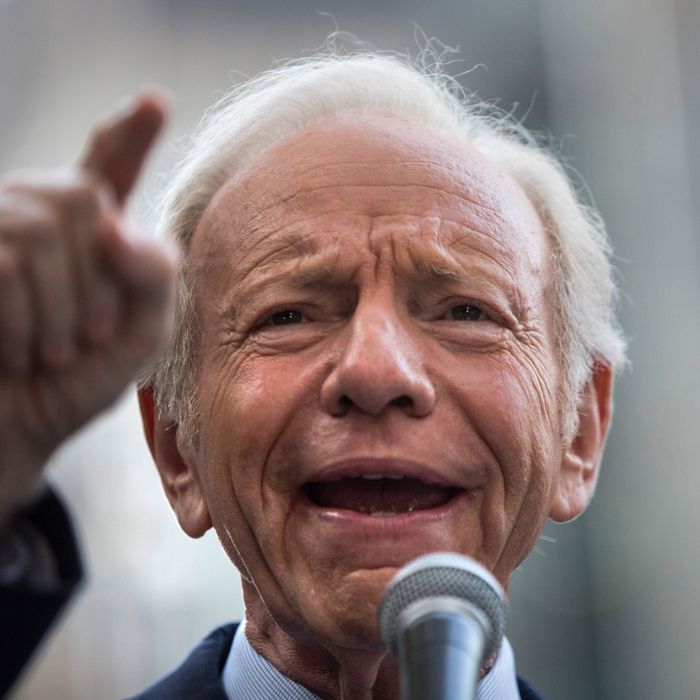 Joementum.
Photo: Andrew Burton/Getty Images
Former senator Joe Lieberman is among four final candidates who will be interviewed for FBI director, the White House announced Wednesday.
The Democratic nominee for vice-president in 2000, Lieberman turned independent in 2006 before endorsing Senator John McCain for president in 2008. Now he's senior counsel with Kasowitz, Benson, Torres & Friedman, a law firm that has often represented Trump in defamation suits. The other three candidates are former Oklahoma governor Frank Keating, former FBI official Richard McFeely, and the current acting FBI director Andrew McCabe.
This isn't the first time the former Democrat has popped up on the radar in recent months. In January, he introduced Betsy DeVos at her Senate confirmation hearing for education secretary, lauding her with praise while criticizing the "education establishment."
Still, Lieberman told CNN, the interview "was not sought after or expected."
Lieberman already has the support of one of his former colleagues. Texas Senator John Cornyn, who pulled his own name out of the running for FBI director, told Politico that he's a "brilliant selection."
"I think he would get 100 votes," Cornyn said. "Everybody loves Joe Lieberman. People know he's going to shoot straight no matter what happens, and I think it's a pretty brilliant selection if that's what he does."
Still, it's hard to imagine Trump considers Lieberman a viable candidate for the job. This is a man who was giving speeches on behalf of Hillary Clinton two weeks before the election and that's not the kind of thing Trump forgets.