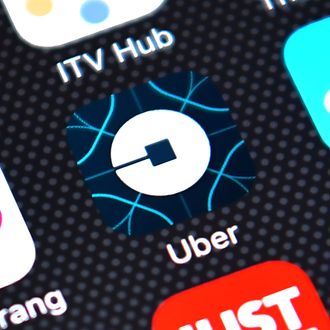 Some users saw fake information in the app.
Photo: Carl Court/Getty Images
So far Uber has had a terrible 2017, facing allegations of widespread discrimination, the #DeleteUber campaign, and the departure of top executives. Now it's become even worse. According to Reuters, the Justice Department is conducting a criminal probe into Uber over the company's alleged use of software to evade law enforcement and local officials.
After the New York Times revealed Uber's use of the tool, called Greyball, in March, Uber said it would prohibit employees from using the software to throw off officials trying to determine if the service was operating in areas where it hadn't been approved. In a letter sent to authorities in Portland, Oregon, last month, Uber's lawyers said Greyball was used "exceedingly sparingly" in the city shortly before the ride-sharing company was approved to operate there in 2015. The Times reported that Greyball was used in several U.S. cities — including Boston, Paris, and Las Vegas — as well as Australia, China, Italy, and South Korea.
Greyball was part of Uber's broader fraud detection system, which relied on credit card information, location, device information, and other data to determine if a ride request was legitimate. Those tagged by the program would see fake information when they opened the app, and would not be picked up when they requested a ride. Joe Sullivan, Uber's chief security officer, said last month that the program was used for many purposes, including "the testing of new features by employees; marketing promotions; fraud prevention; to protect our partners from physical harm; and to deter riders using the app in violation of our terms of service."
However, employees told Reuters that it was also used to single out potential authorities, based on factors like affiliation with police credit unions and social-media profiles. Following the Times report, officials said they believed the company used Greyball to obstruct their efforts to determine whether Uber was operating in their city illegally.
Uber has reportedly received a subpoena from a grand jury in Northern California to produce documents on how the program works and where it was used. Uber and the Justice Department have declined to comment on the investigation.