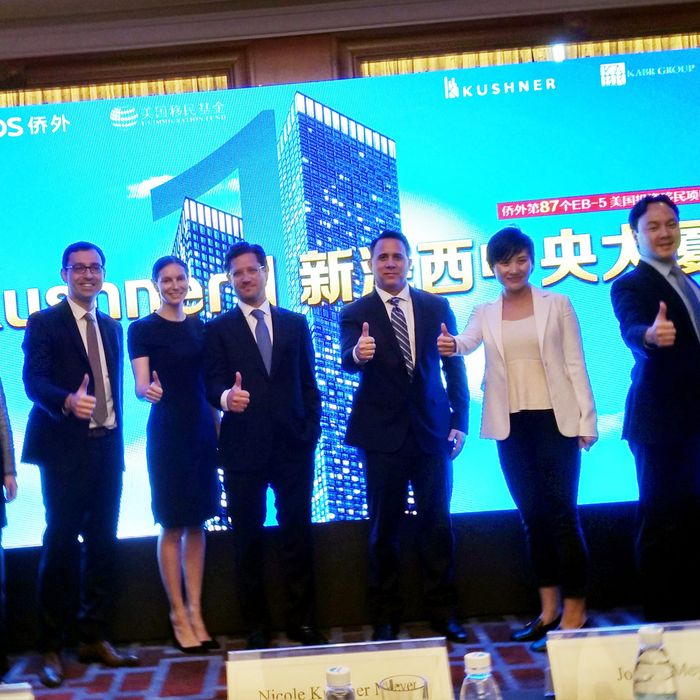 Nicole Kushner Meyer, third from the left, at a promotional event last weekend.
Photo: Albee Zhang/AFP/Getty Images
Jared Kushner's family company has scrapped plans to pitch wealthy Chinese investors on the so-called "golden visa" this weekend. The decision comes after a similar event last week resulted in criticism that the company was trying to profit off of Jared's White House role.
"No one from Kushner Companies will be in China this weekend," company spokeswoman Risa Heller told the Washington Post on Thursday.
Last weekend, Nicole Kushner Meyer, Jared's sister, pitched a group of wealthy Chinese investors on a luxury-apartment-building project in New Jersey. She emphasized that if they put in half a million dollars they could a receive EB-5 investor visa, or golden visa, which allows wealthy foreigners easier access to residency in the U.S. Promotional materials for the event played up the company's proximity to the White House and encouraged attendees to "invest under the old rules," an apparent nod to the Trump administration's plans to overhaul the program.
Turns out, Meyer's presentation might accelerate that overhaul. On Thursday, Republican Senator Charles Grassley called on Homeland Security head John Kelly to "expedite" the revisions in the investor visa program. He cited Meyer's pitch, which he said suggested "special treatment and expedited approval" for those investing in the New Jersey high-rise.
"It is appropriate for the Department to clarify and affirm that no foreign investors will receive preferential treatment, that applications will be processed in the order in which they are received—subject to any existing backlog—and that future applications will be subject to the proposed regulations, when approved," Grassley wrote in a letter to Secretary Kelly.
The regulations to which Grassley refers were introduced by the Obama administration shortly before Trump's inauguration. As it stands, the EB-5 program is only supposed to make visas available to those who invest in job-creating projects in locations in need of economic activity. But there are loopholes that allow developers such as Kushner Companies to use the program on luxury buildings in high-income areas.
The proposed changes to the program would increase the amount that must be invested in order to get a green card. In high-unemployment areas, it would jump from $500,000 to $1.35 million, and in low-unemployment areas, it would go from $1 million to $1.8 million.
Trump has already renewed the program without any changes this year, but the White House also told the Times this month that it "is evaluating wholesale reform of the EB-5 program."