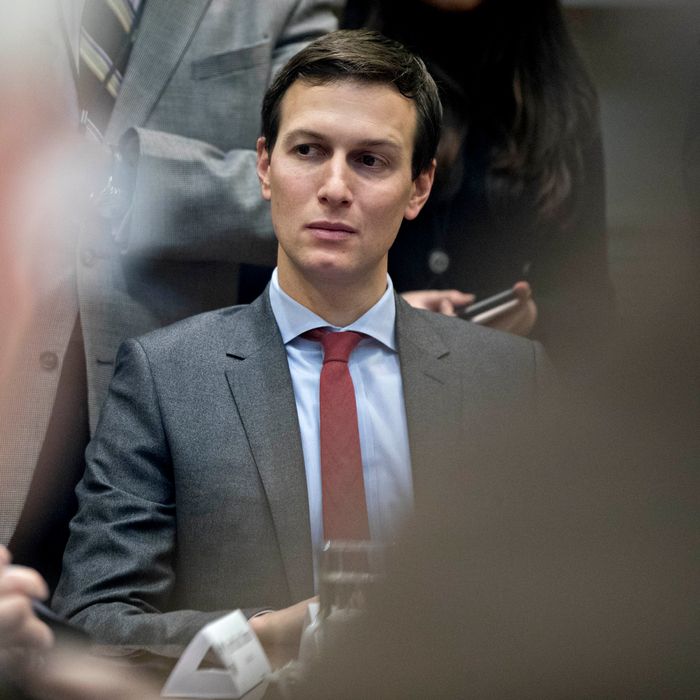 Didn't Sasha and Malia get their own intelligence briefings?
Photo: Pool/Getty Images
Following reports that top Trump adviser/son-in-law Jared Kushner has come under FBI scrutiny for allegedly attempting to set up a secret back channel that would allow the Trump transition team to communicate with Russia, many Democrats — including Adam Schiff, the top Democrat on the House Intelligence Committee — said Kushner's security clearance should be reviewed.
"The FBI's Russia investigation reached Trump's backyard, and now it's in his house," the Democratic National Committee said in a statement. "Kushner's security clearance should be suspended until the FBI's findings are complete."
That might have a bigger impact on White House operations than they realize. In a Washington Post report published Monday night, CIA Director Mike Pompeo and Director of National Intelligence Daniel Coats offer some insight into how President Trump likes his daily intelligence updates. While Trump turned down daily briefings during the transition, he now has a briefing around 10:30 a.m. on most mornings. As previous reports suggested, he likes the presentation to be brief and filled with "killer graphics," as Pompeo put it.
"That's our task, right? To deliver the material in a way that he can best understand the information we're trying to communicate," said Pompeo.
Some are concerned that the president may not be retaining enough information from these briefings, but as the Post reports, many other top officials are keen to hear what the intelligence analysts have to say … and one even gets a personalized rundown:
Vice President Pence usually attends, while other administration principals join depending on the topic of the day, including Defense Secretary Jim Mattis, Commerce Secretary Wilbur Ross and Homeland Security Secretary John F. Kelly. Senior members of the West Wing staff sometimes float in and out of the Oval Office during the briefings.

Jared Kushner, the president's son-in-law and senior adviser, often observes quietly; he receives his own intelligence briefing earlier in the morning, according to two White House officials.
The article does not explain why Kushner needs separate intelligence briefings, but it probably has something to do with his role as "shadow secretary of State," as Axios described it. Kushner reportedly had a key role in the Trump administration's recent dealings with Canada, Mexico, Israel, Saudi Arabia, and China, while the actual secretary of State, Rex Tillerson, quietly met with a number of foreign leaders during his travels abroad.
CBS News reports that after days of bad press about his Russia contacts, Kushner's White House rivals see him as "vulnerable" for the first time. However, it still seems fairly unlikely that President Trump will fire his own son-in-law, or that he'll lose his security clearance. As we learned back in November, when it was unclear if it was even legal for Kushner to take a job in the White House, one of the many perks of being president is giving security clearance to essentially whomever you want.