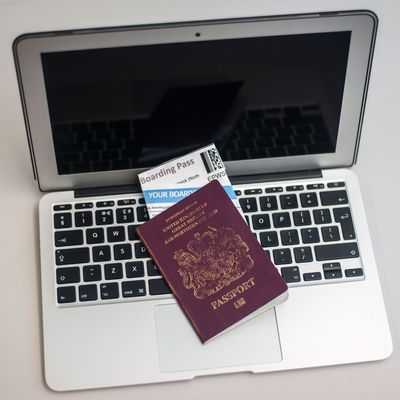 Laptops could be banned on flights from Europe in the near future.
Photo: Lauren Hurley/PA Images/PA Images via Getty Images
If you're flying from Europe to the United States in the near future and were planning to use your laptop during the flight, you might have the rethink your plans. Laptops are no longer going to be allowed in plane cabins, according to a report today from the Daily Beast, which cites unnamed European security officials. The decision is expected to be announced on Thursday, the Daily Beast also reports.
If it goes through, the ban would be an extension of an existing laptop ban imposed by the Department of Homeland Security earlier this year. The devices were banned on flights originating from ten airports, including airports in Saudi Arabia, Qatar, and Turkey. It was imposed following concerns that bombs could be built into the devices and then brought aboard flights. (The United Kingdom followed suit with a similar ban.)
From DHS via the Daily Beast, regarding the alleged ban extension:
No final decisions have been made on expanding the restriction on large electronic devices in aircraft cabins; however, it is under consideration. DHS continues to evaluate the threat environment and will make changes when necessary to keep air travelers safe.
If the ban is enacted, airlines will have another issue to consider. How to keep all those lithium-ion batteries, which will now be chilling in cargo holds, from exploding and causing potentially deadly fires.