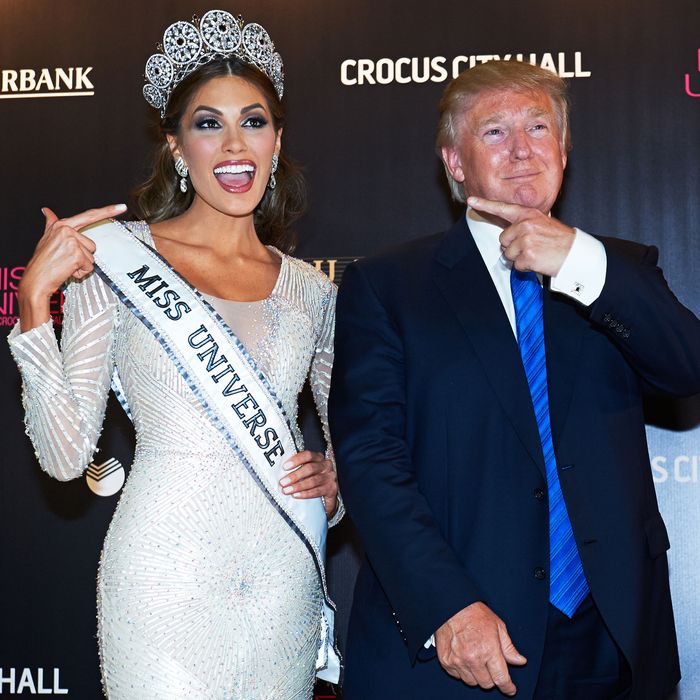 Trump at Miss Universe 2013 in Moscow.
Photo: Irina Buzhor/Kommersant via Getty Images
In his latest attempt to snuff out suspicions about his alleged ties to Russia, President Trump has had his lawyers release a letter that claims, without providing evidence, that his last ten years of tax returns are free of "any income of any type from Russian sources."
The letter, which is dated March 8 and was first prepared for Senator Lindsey Graham, goes on to note several exceptions to the statement above. For one, the Miss Universe pageant, which Trump owned until 2015, was held in Moscow in 2013. That event accounted for a "substantial portion" of the foreign income the pageant earned that year, the letter says.
The letter also notes the 2008 sale of a Palm Beach mansion to Russian oligarch Dmitry Rybolovlev, who bought the home for $95 million. (Trump bought it 2004 for $41 million.) The final exception, which provides a loophole bigger than Trump's ego, says "over the years, it is likely" Trump has sold or rented property or goods that "could have produced income attributable to Russian sources." It adds that the amount earned from such deals is "immaterial."
Obviously, the letter proves nothing, and may prompt more questions about Trump's Russia ties. By limiting their review to tax returns from the past decade, Trump's lawyers raise one obvious question: What's in the tax returns from the years before that? And there are plenty others.