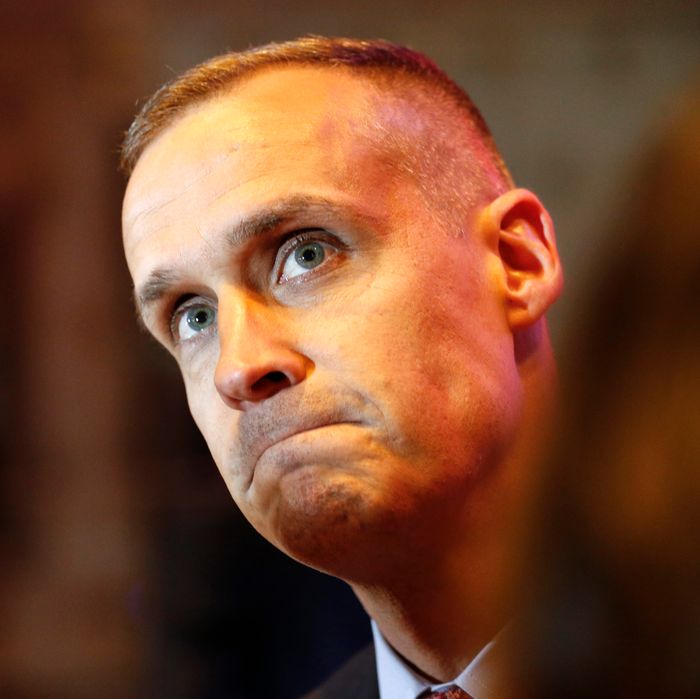 Photo: VIEWpress/Corbis via Getty Images
Corey Lewandowski is helping the Trump administration drain the swamp — by leaving his own lobbying firm. Trump's former campaign manager resigned from Avenue Strategies on Thursday, a day after a government ethics group asked the Justice Department to investigate whether he was engaged in unregistered lobbying.
Lewandowski told Bloomberg that he wasn't required to register, as he only advises clients on how to shape their messages for the Trump administration. Others at the firm are registered as lobbyists, but Lewandowski said he doesn't take advantage of his relationship with President Trump.
"On the occasions I've had the opportunity to see him or speak to him, he's asked me do I need anything and every time I've said, 'No, I don't,'" Lewandowski said. "I'm not in the business of asking the president for favors. That's not my job or my role. I'm sure he has enough requests already for things and I don't ask him for anything."
However, last week Politico reported that an affiliate of Avenue Strategies called Washington East West Political Strategies had been trying to drum up business in Eastern Europe by promising to arrange "meetings with well-established figures," like Trump and Vice-President Mike Pence, as well as "key members of the U.S. Administration."
Lewandowski said the firm's co-founder Barry Bennett, who also advised Trump, and others at the company were using Lewandowski's name without his permission. He said he wasn't aware that Washington East West existed.
Bennett said they were parting on good terms, but the arrangement had been difficult for Lewandowski, as he did not want to lobby. "It is hard to not lobby and own a chunk of a lobbying firm," Bennett told the Washington Post.
A source told Politico that Lewandowski is heading back to New Hampshire to figure out his next move. However, C.J. Gimenez, another Avenue employee, said he was leaving the firm, too, and would start a new venture with Lewandowski. "Corey and I are breaking away to focus on domestic clients," Gimenez said. "While we respect everyone at Avenue, when the visions don't align, the best thing to do is move on."