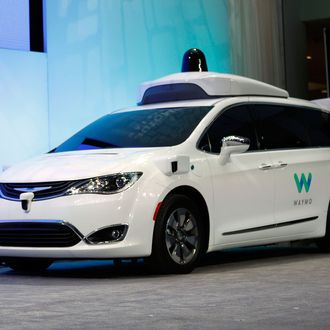 Photo: Bill Pugliano/Getty Images
Waymo, the Google-owned self-driving-car company currently suing Uber over alleged stolen technology, and Lyft, the woke bae of ride-hailing apps, are teaming up to develop self-driving cars. According to a report from the New York Times, the two will "work together to bring autonomous vehicle technology into the mainstream through pilot projects and product development efforts." Translation: To use Lyft's customer base — since Lyft is one of the few companies in the space not trying to build autonomous cars — and Waymo's technology and expansive research to beat everybody else trying to corner the market on self-driving tech. Beyond that, there aren't many details on the deal, which has been in the works since last summer.

Regardless of the exact nature of the partnership, it's likely to be nerve-racking to Uber CEO Travis Kalanick. Google's lawsuit against Uber is heating up, with the company seeking an injunction against Uber that would bar Uber from using any of the technology it allegedly got its hands on when former Google engineer Anthony Levandowski left the company for Uber in January 2016 with trade secrets — including documents and data — in tow. Earlier on Monday, a judge ruled that Levandowski be barred from working on LiDAR — the allegedly stolen tech — but Uber will be allowed to continue working on its self-driving initiatives. Which, frankly, doesn't change much for Uber, since the company already elected to remove Levandowski from any work involving LiDAR earlier this month.