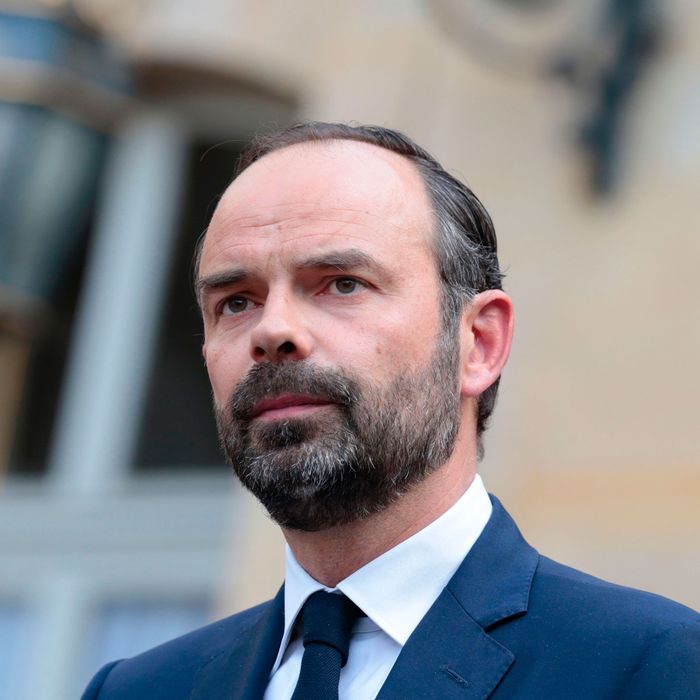 Born to run … France's economy.
Photo: Joel Saget/AFP/Getty Images
France's new president, Emmanuel Macron, was sworn in Sunday, a week after the independent candidate defeated far-right candidate Marine Le Pen in nationwide elections. Macron, the country's youngest president, started filling out his administration Monday, announcing the appointment of Édouard Philippe as France's new prime minister. His portfolio will include implementing Macron's economic reforms, reports Bloomberg.
Right now, Philippe is a mayor of the port city of Le Havre and was elected to France's parliament in 2012 as a center-right Republican, one of the major parties that Macron upended in the election after its candidate, François Fillon, got caught up in a corruption scandal. According to Bloomberg, Philippe was an ally of Alain Juppé, a former prime minister who came in second to Fillon in the Republican primaries.
Philippe has a reputation for being a big Bruce Springsteen fan, but otherwise the 46-year-old politician had a rather low-key national profile until Monday. He and Macron share similar qualities, besides their relative youth (Macron is 39): Both are graduates of France's elite National School of Administration and both men spent most of their careers in the private sector.
Still, Macron's appointment of Philippe is a clear attempt to reach out to the to conservatives to build support going in to France's parliamentary elections in June. Macron founded the party En Marche! just ahead of the presidential elections, and so his nascent organization is at a colossal disadvantage in these crucial parliamentary elections, where all 577 seats are up for grabs. Macron served as a minister in former president François Hollande's cabinet, and much of his support comes from the center-left Socialists — and there's speculation that many will decamp and run under the En Marche! banner. But even so, Macron needs more moderates from both sides to join up, or at the very least be willing allies as Macron tries to enact his agenda. Without even that baseline support, Macron's presidency could be paralyzed.
Which also means Philippe's tenure could be short-lived. Outgoing president Hollande's Socialist Party is extremely unpopular, and the Republicans are likely to make big gains in the parliamentary elections. If En Marche! doesn't gain enough seats, or recruit enough politicians willing to form a coalition, the body can vote out Philippe and install a new prime minister — a move that would likely eliminate any chance Macron has of enacting his agenda. But Macron could also be anticipating a Republican wave, and hoping Philippe might still be a palatable choice as prime minister.
Macron is likely to start naming more people to his cabinet this week, reports the New York Times. Also on the early agenda of his presidency: a meeting with German chancellor Angela Merkel.