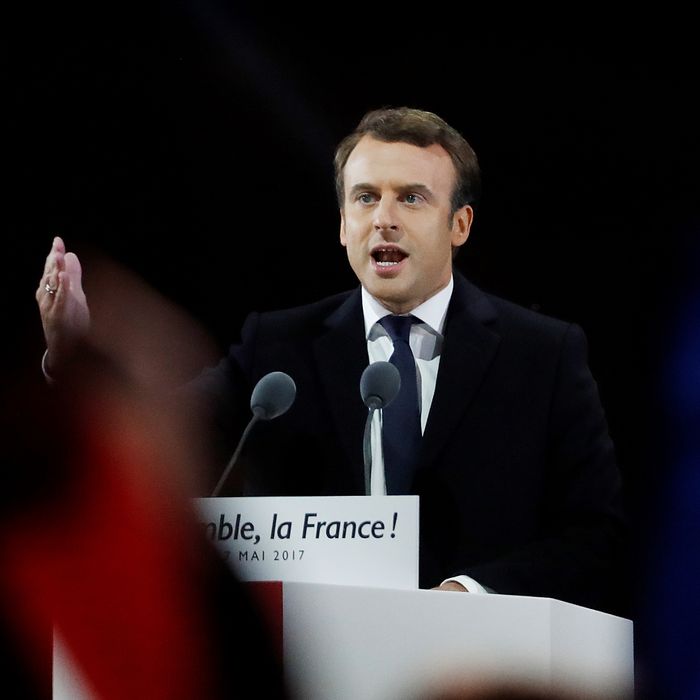 Emmanuel Macron addressing his supporters at a victory rally outside the Louvre Museum in Paris on Sunday.
Photo: Patrick Kovarik/AFP/Getty Images
As expected, centrist independent Emmanuel Macron has soundly defeated far-right nationalist Marine Le Pen to become France's new president, taking a projected 65 percent of the vote in Sunday's runoff election. Macron's victory represents a decisive rejection of the populist Le Pen and the anti-EU and anti-immigrant views espoused by her and her National Front party. The result is also sure to assuage, at least temporarily, the fears of many in the West over a general rightward populist shift in European politics, as well as concerns over further breakup of the EU following the U.K.'s shocking Brexit vote last year.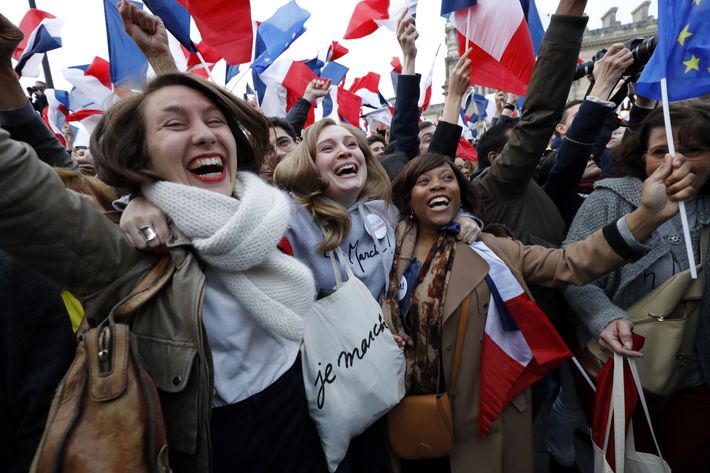 It should also be noted, however, that Le Pen's nearly 35 percent support is a historic high point for the far-right in France, and could thus be a harbinger of political power to come (though as FiveThirtyEight's Nate Silver points out, the result was the sixth straight European election where the nationalist candidate has underperformed pre-election polls). It is also far from clear how successful Macron will be at solving the enormous problems France currently faces, including a depressed economy, high unemployment, and an ongoing state of emergency following several major attacks by Islamist terrorists. Macron will also need to try and spearhead reforms within the EU, which he supports close integration with, and also reform the French political system to more effectively respond to the needs of the country's citizens.
As New York contributor Heather Hurlburt highlights in her sobering postelection warning to France's liberals, both abstention and blank-ballot rates among French voters reached historic highs on Sunday, and the politically inexperienced Macron now has to try to cajole political unity within France if he hopes to have any real power moving forward. The next and possibly hardest test of his political skills will come in just six weeks when parliamentary elections are held. While much of the French political establishment that Macron originally defeated ultimately rallied support for him against Le Pen, the unity may not last.
Hurlburt also explains that there are reasons Le Pen and her National Front party have gained the support of so many people in France despite, or because of, their extreme views, and so Sunday wasn't the last time Macron will have to contend with Le Pen's burgeoning movement.
In a subdued televised address following his win on Sunday, Macron tried to acknowledge the difficult path ahead. "I know the the divisions in our nation that led some to cast a vote for the extremes; I respect them. I know the anger, the anxiety, the doubts that a large part of you also expressed. It is my responsibility to hear them," he said. Macron also promised to defend France and Europe, insisting that "it is our civilization that is at stake, our way of life," while declaring that France will be "on the front line of the fight against terrorism on its soil and in international action," and that he will lead the country against other threats, such as climate change, as well.
Later, in a short speech at a victory rally outside the Louvre Museum in Paris, Macron struck a more celebratory tone, announcing that, "Tonight, France won," and adding that, "Everyone told us it was impossible, but they don't know France."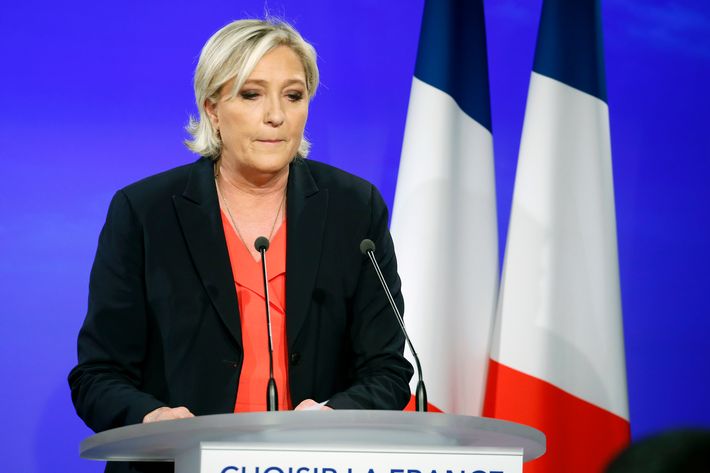 Le Pen, in her concession speech, characterized the result as French voters having chosen "continuity" and vowed to renew and transform the National Front into a stronger and larger party, and that she would lead it to gains in parliament next month. She also insisted to supporters that together they would form the primary opposition fighting Macron's agenda, framing that conflict as the "patriots" of the National Front versus Macron and the "globalists."
President Trump, who had once called Le Pen the "strongest" candidate in the race, tweeted his congratulations to Macron on Sunday afternoon:
A former investment banker and economy minister who has never held elected office, Macron formed his own political party, En Marche!, last year in order to offer French voters an option that was "neither left nor right." At 39, he will also be the youngest-ever French president. Despite his lack of experience, Macron was the clear front-runner heading into Sunday's vote. He and Le Pen defeated candidates from both of France's major political parties, as well as seven other candidates, in a preliminary election on April 23. Indeed, Sunday's runoff was the first time that no candidate from either of France's main political parties was represented in the final round of voting in a presidential election in postwar French history, and that alone represents a significant rejection of the political Establishment in the country. Nonetheless, the overall European political Establishment is undoubtedly happy with Macron's victory, which is clearly a victory for centrism and globalism in the region as well.
The other big news out of France over the weekend was that the Macron campaign reported on Friday night that it had been hacked and that the hackers had posted about nine gigabytes of stolen emails and documents online in an effort to derail Macron's candidacy. Some cybersecurity analysts believe the attack on Macron's campaign was conducted by the same Russia-linked hackers who were allegedly responsible for the hacks on the Democratic Party and the Clinton campaign during the U.S. presidential election. Because of a legally mandated blackout on campaigning, which began midnight Friday, the contents of the data dump ultimately received little attention and clearly did not sway the election against Macron. French prosecutors have opened an investigation into the hack.
This post has been updated throughout to reflect additional details and context in this breaking-news story.