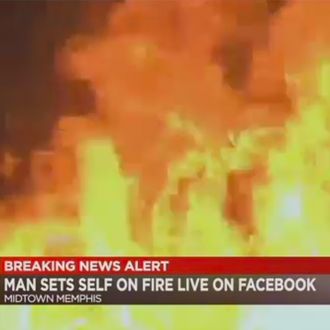 Jared McLemore, a 33-year-old from Memphis, died over the weekend, succumbing to injuries sustained after he lit himself on fire in an apparent attempt to die via suicide. McLemore streamed his actions — which included dousing himself in gas and then running into a local bar — via Facebook Live, WMC Action News 5 reports. His ex-girlfriend, Alyssa Moore, worked at the bar.
McLemore had a history of both mental illness and domestic violence. At the time of his death, Moore had an active restraining order out against him, WMC Action News 5 also reports. It's unclear how many people saw the Live video, or for how long the video remained up on Facebook. People who were at the bar described the scene as "horrific." "This gentleman comes breaking into the bar totally on fire, head to foot," one witness said.
Both McLemore and Moore's families have issued statements. The former's thanked emergency personnel and hospital staff, noting McLemore had been struggling with bipolar disorder for years and had been seeking treatment. "Please let him rest in peace," the McLemore family's statement concludes.
Excerpted from the Moore family's statement:
By now, it seems everyone has heard the story of what happened at Murphy's in Memphis in the early hours of Saturday, May 13. We want to thank the community for its outpouring of love and support. Alyssa is thinking of everyone who had to witness this, both in person and on Facebook Live. Those who were at Murphy's that night to enjoy the music witnessed Jared targeting Alyssa in her workplace, terrorizing her, and also terrorizing as many others as he could in the process. Alyssa knows many have been affected by this event, for many reasons, and hopes that when she's ready, she'll be able to give back the same love and support she's received from so many of you.

Jared's family is also in Alyssa's heart. We want to make clear that this happened because of a perfect storm of domestic abuse, the stigma around it, and the visceral reality of mental illness. Alyssa tried to help Jared, and she also had to keep herself safe from him. The police were involved numerous times, and she had an active restraining order.

This Facebook Live suicide is just the latest in a string of recent graphic and violent Live videos. In April, a Thai man streamed himself hanging his baby daughter. He later killed himself off camera. And earlier in the same month, a man wanted for killing an elderly stranger in Chicago and streaming it on Facebook also killed himself, following an extensive manhunt. In an attempt to fix this issue, Mark Zuckerberg announced that Facebook will be hiring 3,000 people to watch the platform for Live videos of murders and suicides. This is in addition to the 4,500 other people who are already tasked with the job.