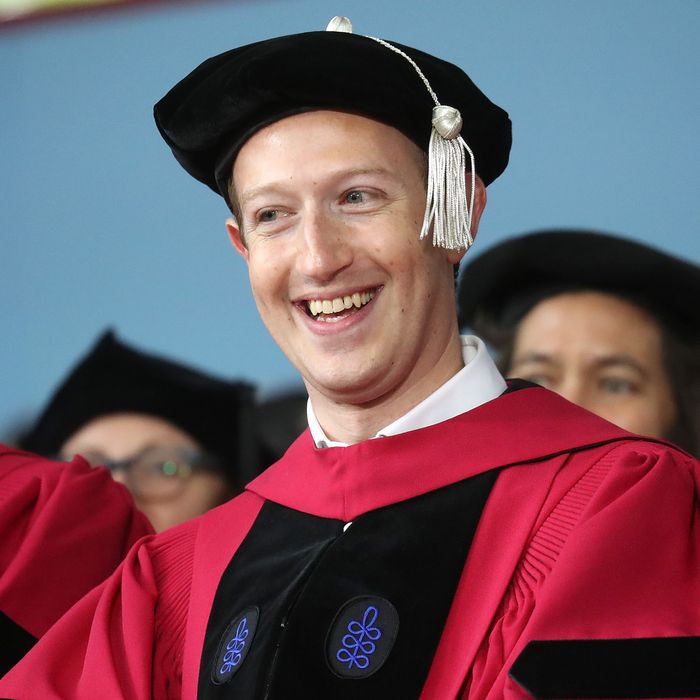 Mark Zuckerberg.
Photo: David L. Ryan/Boston Globe via Getty Images
This afternoon, Mark Zuckerberg, the most famous Harvard dropout since some guy named Bill Gates defined personal computing, returned to campus to receive his honorary degree. It was not Zuckerberg's first visit back to campus, but it was clearly his most triumphant.
Zuckerberg has spent his time in Cambridge taking a full-throated victory lap of his accomplishments, beginning with a handful of nostalgic posts on social media. There was the grainy, standard-def footage of Zuckerberg receiving his acceptance, opening his email on a bulky, turn-of-the-century PC tower set up so that he didn't even need to leave his bed to get online. There was a stilted livestream tour of Kirkland H33, the dorm where he made Facebook's first iteration, in which the dropout reminisced about defining college memories, like some guy mooching his microwaved Hot Pockets. There was a visit to Pinocchio's, where an embarrassing paparazzi shot of the CEO from a few years ago, mouth stuffed with pizza, hangs on the wall.
But Zuckerberg's "just a regular guy" hokeyness — "Mom, I always told you I'd come back and get my degree," he posted shortly after receiving the degree — stands in contrast to a campus that has been transformed by his looming shadow. It's only a matter of time before he cuts a check to build his own Maxwell Dworkin, the campus building that houses the computer-science department, and which is named for the mothers of Bill Gates and Steve Ballmer.
Over the past decade, CS 50, the introductory computer-science course, has multiplied in size to become the most popular course on campus (overtaking, in somewhat ironic fashion, Economics 10, a prerequisite for future investment bankers). And like Goldman Sachs, Facebook recruits heavily from Harvard's campus. In his dorm-room livestream, Zuckerberg serendipitously ran into two students who had worked or were going to work for the social network over the summer. Those who return to Facebook full-time after college are said to receive six-figure signing bonuses. "Everybody works at Facebook," one student said.
Even if you don't work at Facebook, or weren't inspired to pursue a CS degree, Zuckerberg's work is still central to campus life. Multiple students said that Facebook is a central hub for organizing campus events and for messaging. Posting photos has since migrated to Instagram, which Zuckerberg purchased in 2012 for $1 billion, in one of the most unquestionably prescient moves of his career. Like Zuckerberg himself, Facebook is not cool, but it's all-encompassing social graph is supremely useful.
In a Simpsons episode from 2010, Zuck tells Lisa, after confessing to dropping out of Harvard, that he'll get "the best kind of degree: honorary, baby!" He had to know that this opportunity would present itself at some point, and the decision to return this year presumably has some sort of agenda behind it. Zuckerberg left the school a frumpy hacker, and has returned a global statesman.
His speech this afternoon, wooden as ever, but still genuine, centered around the concept of purpose — "feeling that you are part of something bigger than yourself" is how he put it. He spoke about the social safety net, and jobs that might soon be lost to automation. He spoke of "a level of wealth inequality that hurts everyone," and endorsed a universal basic income. He spoke about how "people like me should pay for it, and a lot of you are going to do really well, and you should too." (That last comment received hesitant, muted applause.)
Zuckerberg noted that his famous path from college dropout to billionaire was possible largely due to the fact that he had assets to fall back on, financially and career-wise. "We all know how much luck we've had to get to this point in our lives," Zuckerberg admitted at one point, though "luck" is an odd synonym for "privilege."
But his speech also seemed to indirectly address the controversy his company has generated over the last year. Speaking of the origins of News Feed, Zuckerberg recalled thinking, If we could just launch this, it could change how we learn about the world. Given how key the News Feed algorithm has been in helping distort information, he's not necessarily wrong.
"The reality is anything we do today is going to have some issues in the future, but that can't stop us from getting started," he declared, shortly before asking people to donate money or time or their genome to such efforts anyway. Those two ideas often clashed within his speech: People should be allowed to fail and feel safe enough to do so; also, "we can be the generation that ends poverty, that ends disease." Zuckerberg's never been hesitant to go all in on things, including stumbles like the rollout of Free Basics in India, or his $100 million waste of a donation to Newark's public schools.
Still, the speech was light on how any of this gets done — like all commencement speeches, it was a lot of vague proclamations. But the lack of specifics also speaks to his precarious position leading a wildly diverse, unimaginably large population of 2 billion global users. He emphasized that we should "start building local communities right now," mercifully leaving out the fact that he'd prefer you do so with Facebook's Groups product.
Zuckerberg closed on an anecdote about a student of his, undocumented, who was worried about being deported. "If a high-school senior who doesn't know what his future holds can do his part to move the world forward," the CEO said, visibly and audibly tearing up, "then we owe it to him to do our part too." Zuckerberg might lack any intent to run for office, but his speech today was one of his most political. The guy clearly wants to get started on fixing the world, but he knows now that he can't do it all on his own.