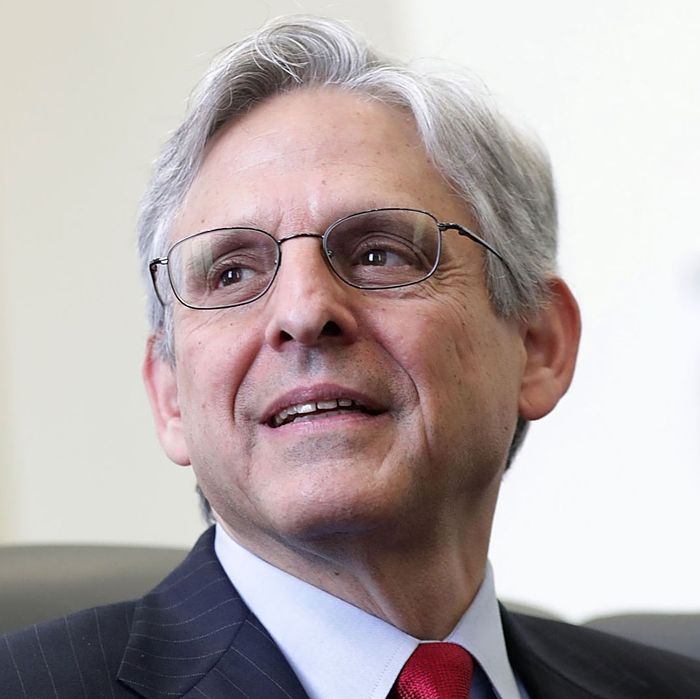 Merrick Garland possesses the one attribute that makes him uniquely qualified to run the FBI: a key court seat Republicans can fill.
Photo: Alex Wong/Getty Images
Senate Majority Leader Mitch McConnell today announced that he has urged President Trump to nominate Merrick Garland as the new FBI director. Garlandmania has been sweeping the Republican Party since conservative Utah senator Mike Lee suggested it last week. The ploy is perfectly transparent: Garland is the chief justice of the D.C. Circuit, the second-most-powerful court in America, and Republicans would very much like to replace him with a member of their own party. The GOP interest in the appointment has persisted despite any indications of interest by Garland, who reportedly wants to keep his judicial seat. Could it possibly be that Republicans have this in mind, and not merely enthusiasm for Merrick Garland's irreplaceable law-enforcement managerial skills?
One imagines Republicans devising their scheme at a brainstorming session. Almost everything has gone wrong for the Republican Party, but the one thing that has gone right is the successful swiping of Merrick Garland's seat on the Supreme Court. A cold self-appraisal of the state of the Republicans would yield the conclusion that their one core competency is stealing court seats from Merrick Garland. So they are trying to do more of that.
However! Garrett Epps points out that Garland would not necessarily have to vacate his court seat in order to accept the directorship of the FBI. He could simply ask for a leave of absence from the chief justice, who happens to be … Merrick Garland.
The ultimate poetic justice would be if Mitch McConnell attempted to swipe another court seat from Garland, by installing him in the FBI, only for Garland to hold on to the seat. And then perhaps direct the FBI to vigorously pursue its investigation of the Trump campaign's ties to Russian hacking.