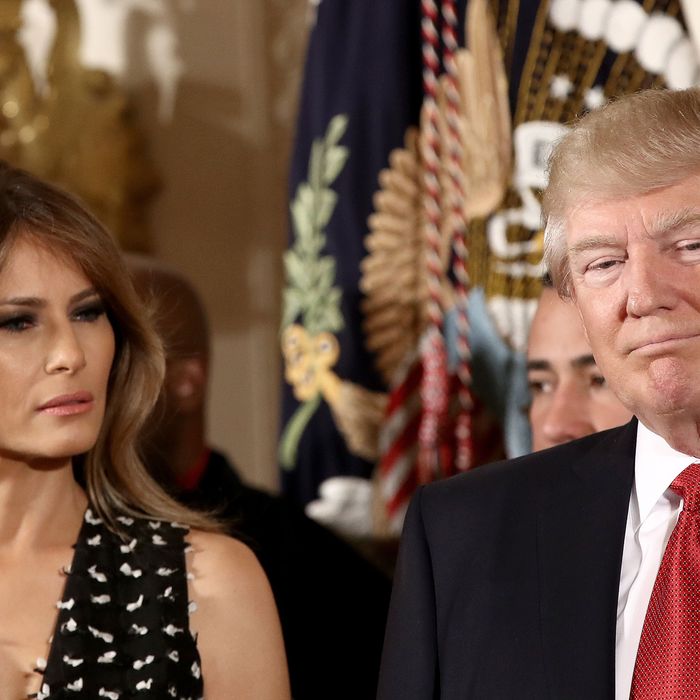 Photo: Win McNamee/Getty Images
Ever since her husband was elected to the highest office in the country, First Lady Melania Trump — notoriously press-shy, not particularly talkative, and more fond of New York City than Washington, D.C. — has remained something of an enigma. Who is she, really? What are her politics? How does she feel about her husband's presidency? We could report, we could speculate, we could write fanfic. Or we could check her "likes" on Twitter:
For about 45 minutes on Tuesday evening, one half of all two tweets that Melania Trump's Twitter account had ever liked was a tweet implying that she hates her husband. (The tweet contains a hugely viral GIF from the inauguration showing Melania quickly losing a smile as soon as she's out of range of the president's eyesight.)
To answer your questions: One, yes, this was her real, verified personal account — @MELANIATRUMP, charming capitalization sic — not her professional account @FLOTUS. And two, yes, it is absolutely real and was noted by multiple Twitter observers:
By 10:53, she had removed the like, with no comment. When asked by Ringer writer Kate Knibbs if he had any connection to Ms. Trump, Andy Ostroy, the "marketer, producer, pundit" who authored the original tweet, responded, "Hmmm … I guess I do now …"
Why would the First Lady like this tweet? The account isn't used much (it hasn't sent tweets since the election) and it's possible that the like was an accident — an overzealous intern didn't switch accounts, maybe. Or maybe it was Melania with an errant touch of the little heart during a search of "@FLOTUS" or "Trump." Or maybe Melania has a very dry sense of humor. Or, maybe, she's like the rest of us and can only admit her deepest feelings and desires in her silent liking of tweets.