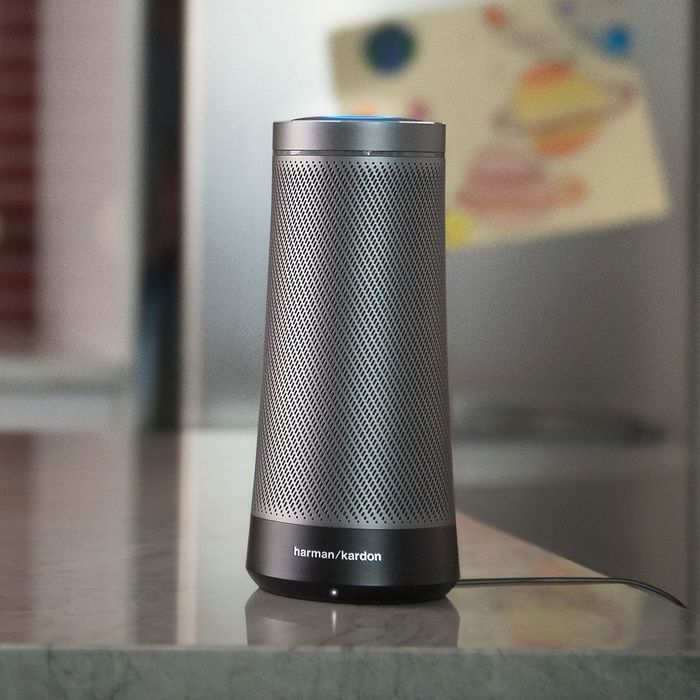 Cortana, how many companies will end up making a smart-home speaker?
Photo: Chris McPherson
Microsoft has put a lot of work into Cortana, its natural-language personal assistant, but Cortana had a problem — you could only really use it if you were sitting at a Windows computer. (Of course, you could also access Cortana when using a Windows phone, but judging from sales numbers, that was about as statistically likely as being struck by lighting right after winning the Powerball.)
But Cortana is leaving the computer and phone, with Redmond teaming up with high-end audio company Harman Kardon to bring the Invoke smart-home speaker. At the Microsoft Build conference today, Microsoft demoed just how it imagines the Invoke will be used: showing a home speaker that was able to send emails, schedule meetings, estimate commute time, and even set up a video call. That's the value proposition of the Invoke: The Cortana smart speaker will deeply integrate with the rest of Microsoft's products. So that means it can hook into other programs like Outlook, Teams (i.e., Microsoft's version of Slack), Skype, and more. It's that Skype integration that could really put some daylight between the Invoke and other smart-home speakers — neither the Amazon Echo nor the Google Home currently allows you to place voice calls. It helps that it looks nice, too — its design has a gentle taper that strikes a nice balance between the stark cylinder of the Echo and the goofy affability of the Google Home.
Of course, you need to be in the Microsoft ecosystem for this to really work — and demos onstage are always more impressive and more seamless than what the Invoke will be like in your actual home. But with 500 million people using Windows 10, and Windows still owning the lion's share of the desktop OS space, the Invoke speaker represents an interesting play. This will be the first home smart speaker that has the weight of a company that runs a full desktop OS, which offers real opportunities that Amazon and Google can't match.
There was no word about how much the Invoke will cost, though it'd be surprising for Microsoft to try to enter the market above the $180 price of the Echo. And no firm release date, either — it'll just be coming at some point in the fall. With Apple reportedly entering the market this fall, we're about to see at least four enormous companies in the game. That said, Microsoft (and Apple) will face some strong headwinds.
The Amazon Echo has built up a huge lead in the market — a recent eMarketer report estimates that the Echo has about 70 percent of market share for smart-home speakers. But that doesn't mean it wins in the end. "Though Amazon is the leader in this market right now, I think it still remains to be seen which one of these devices wins consumers over," says eMarketer principal analyst Victoria Petrock. "We could begin to see these speakers start to specialize in doing one thing really well. For example, maybe Microsoft will emerge as the speaker with the best quality of sound, and will be favored by audiophiles. Maybe Amazon will emerge as the best speaker for shopping. I think right now it's too early to tell — but it's going to be interesting to watch how these different players work to try to differentiate themselves."
In other words, it's not that the Echo is unbeatable, or that Amazon has already won the battle of being the smart-home hub of the future (which is really what all these smart speakers are fighting over). It's just that Microsoft — or any new entrant into the market — has to provide a very compelling reason why it's a better choice than what's already out there.