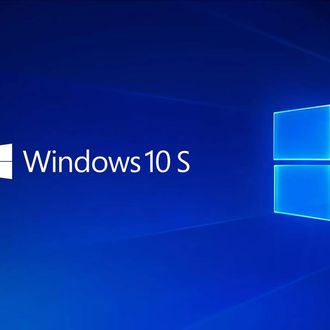 If last year's Microsoft Surface Studio — an enormous tablet-computer hybrid made for work with images — was an attempt to take on Apple when it comes to the latter's dominance with professionals working in graphic design and image editing, today's education-themed event was all about Microsoft setting its sights on Google and its Chromebook.
Satya Nadella, the Microsoft CEO who's helped revitalize the company, took the stage at the event with a story of his great-grandmother, who could only afford to send one of her sons to school. One son became a day laborer, the other — Nadella's grandfather — went to school, and eventually became a police officer. His grandfather's salary allowed Nadella's father to also go to school, and for Nadella himself to immigrate and study in the U.S., and eventually lead one of the largest tech companies in the world. "Talent is everywhere," said Nadella, "opportunity is not."
Since being introduced in 2011, Chromebooks — cheap, lightweight laptops from a variety of manufacturers that run Google's Chrome OS — have quickly taken root in the classroom (one estimate says that about half of K-12 classrooms in the U.S. use Chromebooks). The majority of Chromebooks out there are actually sold directly to schools, usually at discount prices or sometimes even for free, making an already cheap product even cheaper for school districts always having to make do with less. The fact that Chromebooks are easy to manage, particularly with multiple users, saves IT headaches.
Per Microsoft, Windows still leads globally in K-12 classrooms, but there's little doubt that Chromebook and Chrome OS are making Redmond uncomfortable. To that end: Microsoft has now introduced Windows 10 S. It's a pared down version of Windows 10, restricting users to apps sold through the Windows Store — meaning that everything students or teachers download has been verified and gets regular editing (it'll also prevent students from downloading sketchy files that may be malware).
That first log-in and boot-up time have been significantly reduced. Windows 10 S will allow for laptops to get by on longer battery life than you can expect out of a normal laptop, thanks mainly to features that more closely mirror how your smartphone handles applications — being extremely aggressive in app management and keeping background processes to a bare minimum. It's also meant to make managing the dozens or even hundreds of students who may use the same device even easier.
There will be Windows 10 education PCs, made by a variety of manufacturers, starting at $189, with a free one-year subscription to Minecraft: Education Edition. There are also tools like Microsoft Learning Tools, which can do things like help kids — especially those with dyslexia and ESL learners — with reading comprehension. Windows 10 S will also be free for any school system already on Windows 10. It'll be out this summer, ready for the new school year. (A Microsoft rep said it was still to be determined how much schools would need to pay — if anything — if they don't have a Windows 10 license already.)
It also debuted what many expected to be its own version of the Chromebook: The Surface Laptop, a clamshell laptop that loses the cool tear-away screen of the Surface Pro and Surface Book and can run Windows 10 S (though, like any Windows 10 S device, it can be upgraded to a full version of Windows for $50). It's a slick-looking machine — just 2.76 pounds with 13.5-inch 1080p touch display — and at 14.47-mm thick at the back and 9.9-mm thick at the front, it's (ever so slightly) thinner than any MacBook Air or MacBook Pro on the market. It continues to use the Alcantara fabric around the keyboard, and comes with Microsoft's pen stylus, allowing users to write notes directly on the screen. Microsoft also promises 14 hours of battery life from the Surface Laptop, which would place it at the far end of what laptops are capable of today.
In a brief hands-on, the laptop felt good — the keyboard feels noticeably better than the butterfly switches on the current generation of MacBooks. The fabric surrounding the keyboard is largely a matter of personal preference — I personally kinda dig the weird '70s pseudo-suede feel of it, but I know others who find it off-putting to rest their palms against the fabric while using Surface Pros with the same styling. It starts at $999, making it high-end for a Chromebook competitor — to my eyes, this is more an offering for incoming college students choosing between a MacBook and something else, before they begin their freshman year.
Still, education was the key, and Microsoft needs this bulwark against Chromebooks in the classroom. Students today will soon be the office drones and the IT professionals who support them. If you have a generation of kids coming up who are, at the very least, comfortable working in Chrome OS, then Microsoft is in danger.
This gets to the heart of the difference between Google and Microsoft. Chromebooks still represent a tiny fraction of Google's business — it is essentially a display-advertising company that happens to make two popular operating systems, Android and Chrome OS. Microsoft, while growing its cloud-computing platform Azure to compete with Amazon's dominant AWS, still makes the most money from licensing Windows and its Office 365 software.
Chromebooks were a long-term wager for Google that ended up working out — but Google's future would have been assured even if manufacturers, educators, and consumers had all ignored Chrome OS. But Microsoft, for the foreseeable future, needs Windows and its suite of office software to continue to be the default OS for most of the world. Whether that's through enticing school administrators via cheap and easy-to-manage PCs, or sucking in kids in via Minecraft: Education Edition, Microsoft wants that to start with students, as soon as they enter the classroom.