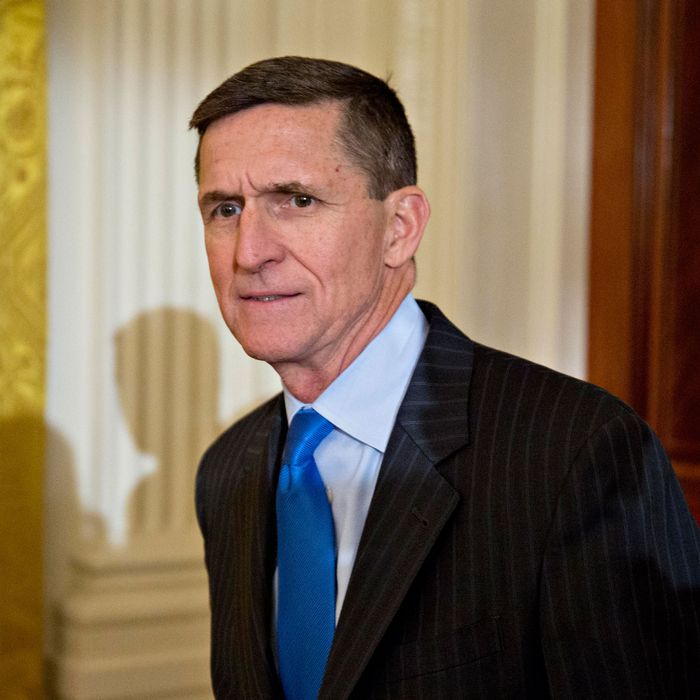 Loves Turkey.
Photo: Andrew Harrer - Pool/Getty Images
Last year, when former national security adviser Michael Flynn's consulting firm was paid more than a half million dollars to work on behalf of Turkey, it was, at least in part, to fund the production of a documentary discrediting Fethullah Gulen, the exiled cleric accused by Turkey's president Recep Tayyip Erdogan of orchestrating a 2016 coup attempt.
The Wall Street Journal was the first to report on the documentary, which it says represented the bulk of Flynn's work on behalf of Turkey. He also wrote an op-ed, on Election Day, for the Hill bashing Gulen. Flynn has denied that the op-ed was written at the request of the Turkish government or Inovo, the Dutch firm with a Turkish-American owner that was paying Flynn's firm.
The documentary, however, was. The WSJ reports that the Flynn Intel Group hired freelance filmmakers last year to conduct interviews for the never-completed film. Those freelancers claim they were misled. Ex-CNN anchor Rudi Bakhtiar said she believed the film, for which she would serve as the on-camera reporter, would be an unbiased news documentary.
Former Vice News employee David Enders, who was led to believe the film would be about Iran, told the WSJ that Bijan Kian, the head of Flynn's firm, tried to hide the company's role in producing the film.
"Bijan said they did not want to be connected to this in any way," Mr. Enders said. "He said: 'We don't want anyone to know the Flynn Intel Group has anything to do with this.'" Mr. Enders said Mr. Kian didn't explain his reasons.
Ekim Alptekin, the head of Inovo, told the WSJ that the piece was conceived of as a "small, 60 Minutes kind of a thing." The goal was to reportedly to get the film to run on PBS's Frontline.
In the end though, the film was never finished. The op-ed in the Hill made the same point that the film was apparently working toward — that Gulen is Turkey's Ayatollah Khomeini — and the three days before last November's election, Inovo paid the Flynn Intel Group $185,000.
The following day Flynn and Inovo reportedly ended their contract, but that didn't stop the retired lieutenant general from representing Turkey's interests. Two months later, as he was preparing to begin work in the White House, Flynn blocked an anti-ISIS plan that Turkey opposed.