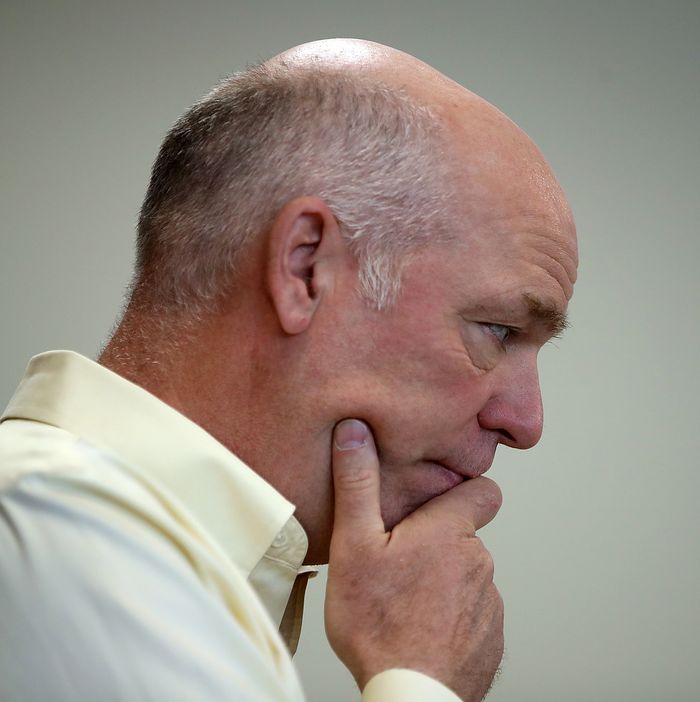 There was something different about KECI's Gianforte coverage.
Photo: Justin Sullivan/Getty Images
Last night, Montana residents who tuned into their NBC affiliate, KECI, would not have heard the now infamous audio of Guardian reporter Ben Jacobs being roughed up by GOP congressional candidate Greg Gianforte. The anchor of the evening newscast, Laurel Staples, read a statement that said, in part, "NBC Montana takes pride in reporting only verifiable facts from an independent, reliable sources."
New York has learned that KECI news director Julie Weindel was called by NBC News to see if KECI would cover the story or had any footage of the Gianforte incident that NBC News and its affiliates could use. A well-placed source familiar with communications between KECI news director Julie Weindel and NBC News says that she was unyielding in her refusal to share any footage she may have had access to, or run a report on the incident. According to the source, Weindel said that they weren't covering the story, though it was featured in outlets across the country at the time, explaining, "The person that tweeted [Jacobs] and was allegedly body slammed is a reporter for a politically biased publication." Weindel then added, "You are on your own for this."
Weindel told New York that those remarks were made in a private email shortly after the story broke, and had been "taken out of context between numerous phone calls as well with NBC."
"Like any responsible journalist with unconfirmed accounts, we needed to be confident that we were able to verify the information and report the facts," she said, adding that at the time there were no "clear and undisputed" facts. "We were eventually able to confirm, and we did aggressively report the facts of the story, the investigation, and the assault citation, based on the sheriff's information and press conference, which we covered and sent in its entirely to NBC and MSNBC immediately," she said.
A report in HuffPost reveals that the station was acquired, last month, by the conservative media conglomerate Sinclair Broadcasting. The KECI station manager told HuffPost that the station "did not have specific instructions or any instruction from Sinclair" regarding the Gianforte story. But specific instruction isn't needed. A story earlier this month in the New York Times said that Sinclair requires its stations to run stories that lean right. And last year Politico reported that the Trump campaign struck an exclusive deal with Sinclair to broadcast interviews with Trump across all of its networks, an unprecedented arrangement.
It's important to note that NBC News, including the Today show and affiliates across the country, played the audio of the altercation between Jacobs and Gianforte, who was charged with misdemeanor assault.
This post was updated to include Weindel's statement. Follow Yashar Ali on Twitter @Yashar.