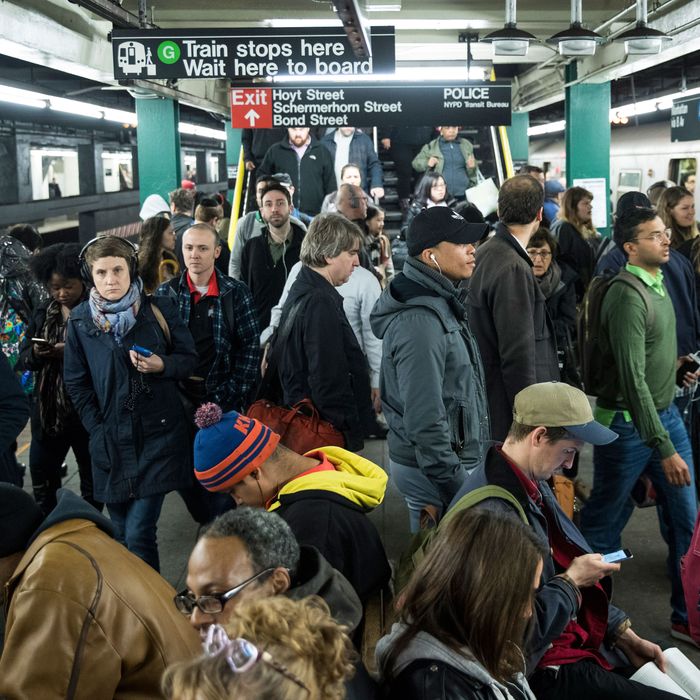 Help!
Photo: Drew Angerer/Getty Images
Mass service disruptions and delays have become the tired refrain of New Yorkers' daily subway commutes: The system averages more than 70,000 delays each month, a leap from about 28,000 in 2012.
But the MTA thinks it has a solution — a temporary one. The agency is responding with a new, six-point plan to help mitigate the subway delays and intermittent disasters, reports the New York Post. The MTA will pour $20 million into this strategy, which will include more frequent testing of the tracks and signal systems; deploying a rapid-response team when something goes awry; and hiring and training emergency-service personnel to deal with sick passengers more quickly and efficiently.
The proposal calls for ramping up the pace at which the agency brings its new subway-car models online. It also will work to diminish bottlenecks where tracks merge. The transit agency also wants to alleviate overcrowding on the platforms but isn't quite sure how to do that yet — the plan might include more station agents, or color-coded signs, or maybe announcements, says the Post.
One rather strange element in this whole plan: It calls for a reorganization of the top management of the MTA, splitting the CEO and chairman positions into two separate posts. (The unified job is currently open, after Tom Prendergast stepped down last year.) It's unclear why or how this change would improve chronic subway delays. As Politico points out, the CEO and chairman were two different jobs until 2008, when the agency, facing huge budget deficits, implemented reforms under the Ravitch Commission.
The MTA's acting director, Ronnie Hakim, said the six-point plan came at the urging of Governor Andrew Cuomo, and has been in the works for weeks and was not in response to last week's power outage at Dekalb Avenue or the signal/mechanical/overcrowding problems on Friday, among other recent subway fiascoes. Overall, the plan is a stopgap measure for an aging, overworked, overcrowded, and still-underfunded system.
This six-point plan will roll out over six months, starting on the Eighth Avenue line from Fulton to 125th Street in Manhattan, for reasons the riders on the A,E, and especially the C, will find self-evident.