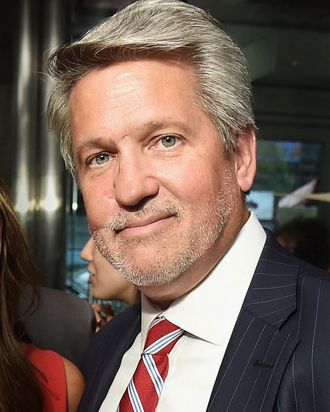 Bill Shine.
Photo: Michael Loccisano/Getty Images for TIME
Last Monday, Rupert Murdoch invited embattled Fox News co-president Bill Shine to lunch. The public outing to Marea, a high-end Italian restaurant near Fox News headquarters, was designed to signal that Shine was secure in his job at a moment when Fox News was being buffeted by lawsuits and negative media reports. But just a week later, Shine was gone from the network. This afternoon, Murdoch announced Shine had resigned.
In the days following the lunch, Shine realized he had lost the confidence of Murdoch, sources said. He expressed mounting frustration to colleagues about the company's not defending him. "Rupert isn't fighting for me," Shine told a friend. To another colleague, he said, "It's a witch hunt." The day after the lunch, Shine told friends he had asked Murdoch's sons, James and Lachlan, to release a statement supporting him. They refused. (Both sides denied this.)
Whatever the case, sources say that Murdoch had decided by the middle of last week that Shine needed to go. Shine had become a flashpoint for outside critics and Fox News employees, especially women, who saw him as representative of the sexist culture that flourished under Roger Ailes. One female executive told me last week that Shine failed to deal with allegations of harassment. The executive recalled complaining to Shine about a male colleague's treatment of women, to which Shine replied: "He's a necessary evil."
By late last week, it was clear to some inside Fox News that Shine might be fired. On Thursday, Sean Hannity tweeted at me, saying, "Gäbe i pray this is NOT true because if it is, that's the total end of the FNC as we know it. Done." If Hannity's tweet — stray umlaut and all — was meant to show Shine's value to the Murdochs, it had the opposite effect. According to a source, Murdoch saw the tweet as "not helpful" to the situation.
This morning at 9 a.m., Shine met with Murdoch to put an end to the speculation. According to a friend, Shine said, "What are we doing here? Let's make a deal." The separation was amicable, sources on both sides said. Shine told Murdoch, "I've invested nearly a quarter century of my life helping to build this network and I'm sick of becoming a distraction."
Shortly after I broke the news of Shine's departure, Fox News employees scrambled to make sense of the shakeup. "I have no idea what is going on," one anchor told me. They soon got their answers when Murdoch announced he was elevating Shine's deputy, Suzanne Scott, to be president of programming. Jay Wallace, a longtime Fox producer, will be president of news. While the ascension of a woman to a top leadership role is a marked change for Fox, Scott's appointment shouldn't be seen as a culture change. Like Shine, she was a fierce Ailes loyalist. And as I've reported, she enforced Ailes's dictums, including his miniskirt dress code for on-air women. She was also involved in monitoring former Fox booker Laurie Luhn while Ailes allegedly carried on a psychologically and sexually abusive relationship with Luhn (Scott denies knowing about it).
Many people at Fox News don't expect Shine to be the last of the Ailes acolytes to leave. In the wake of Hannity's tweets last week, sources inside Fox speculated today that he might follow Shine out the door. But a close friend of Hannity said that's not the case: "He didn't leave for Ailes. He ain't leaving for Shine." Hannity tweeted tonight that he is not negotiating an exit from Fox.
Meanwhile, the network's general counsel Dianne Brandi is being discussed as the next possible departure, given she signed many of the sexual harassment settlements (including Luhn's). As of tonight, Fox executives said Brandi is safe. But Shine's departure proves how quickly that state of affairs can change.