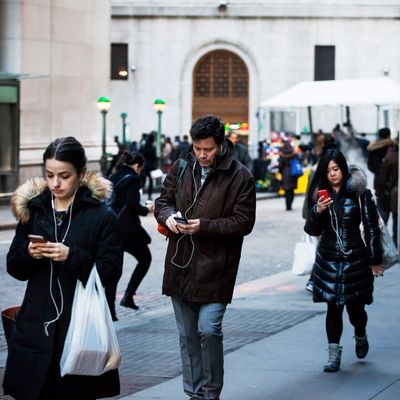 Hold onto your 646.
Photo: Michael Nagle/Bloomberg via Getty Images
A 212 number is about to become even more coveted, now that officials are introducing a brand-new area code to Manhattan: the 332. Starting June 10, there is a chance that Manhattanites could be assigned this number, and begin facing the question, "332, where is that?"
The addition of the 332 area code won't affect any existing Manhattan numbers, and will be given out as needed across the borough, though yes, you'll have to plug in all ten digits even if calling within the city.
The OG 212 was introduced in 1947, and covered the entire city until 1985, when Queens and Brooklyn got shunted to the 718. (The Bronx followed in 1992.) The 917 was introduced in 1992 for cell phones and these things called pagers, and later expanded to residences and businesses. The 646 came on the scene in 1999 (as did 347 for the outer boroughs, followed by the 929 in 2011), but the 332 is officially the first new Manhattan area code in almost 20 years.