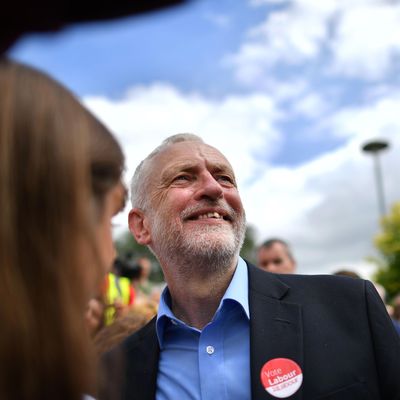 Labour leader Jeremy Corbyn, expected to be a punching bag for PM Theresa May, has instead looked quite competent.
Photo: BEN STANSALL/AFP/Getty Images
Last month, when British prime minister Theresa May surprised a lot of observers by calling a quick election for June 8, it was generally thought she was taking advantage of an unusually favorable climate of public opinion to strengthen her Conservative Party's majority in the House of Commons going into intense Brexit negotiations with the European Union. At that time the Tories had a massive lead (21 percent according to YouGov) in the polls over its major-party rival, Labour, which was struggling with internal and external unhappiness with its old-school-lefty leader Jeremy Corbyn.
Just weeks later, that lead has by all accounts shrunk, in part because of a very adverse public reaction to a new Tory proposal for a levy at death aimed at recouping late-life public-health-care expenses provided in homes. Dubbed the "dementia tax," it has galvanized chronic fears about Tory austerity policies. Despite a partial abandonment of the proposal by May, it's definitely hurt the Tories, especially among older middle-class voters. Compounding May's problems, Jeremy Corbyn, thought to be her ace in the hole, has turned out to be a better campaigner than most friends or enemies expected.
And so, this very day, May is dodging a BBC debate among all the other party leaders — including Corbyn, who decided to attend at the last minute. That certainly represents a change in the climate that once had May eager to find any available means of contrasting herself with the Labour leader.
The big question is whether a shrinking Tory lead will lead to a complete backfire for May in calling this election, or merely limit Tory gains. Polls have shown a downward trend in the Tory popular-vote lead into the high single digits or low double digits. But the real shocker came yesterday when YouGov — the same pollster that showed the Tories blowing out to a huge lead in June — did an analysis of individual seats and concluded that May might lose her majority altogether, leading to a "hung parliament" with no majority, or even a Labour government.
A closer look at the YouGov poll shows that it's using an "experimental" model for measuring voting intentions, and that the underlying data show a wide range of possibilities, including a big Tory win. But still, the idea of a "hung parliament" is fascinating. The most likely minor-party coalition partner is the Liberal Democrats, who are running on clear-cut opposition to Brexit and would probably make demands inconvenient to the Brexit-hedging major parties. Another is the Scottish National Party, which would also exact a high and difficult price for a coalition. It could produce a fine mess.
For now that remains unlikely, and all this polling does not completely take into account the possibility of a pro-Tory shift in opinion in response to the suicide bombing attack in Manchester.
But the fact remains that Theresa May's decision to hold this election is looking to be a bigger gamble than anyone imagined. And Jeremy Corbyn's not looking to be quite the electoral millstone he was reputed to be.