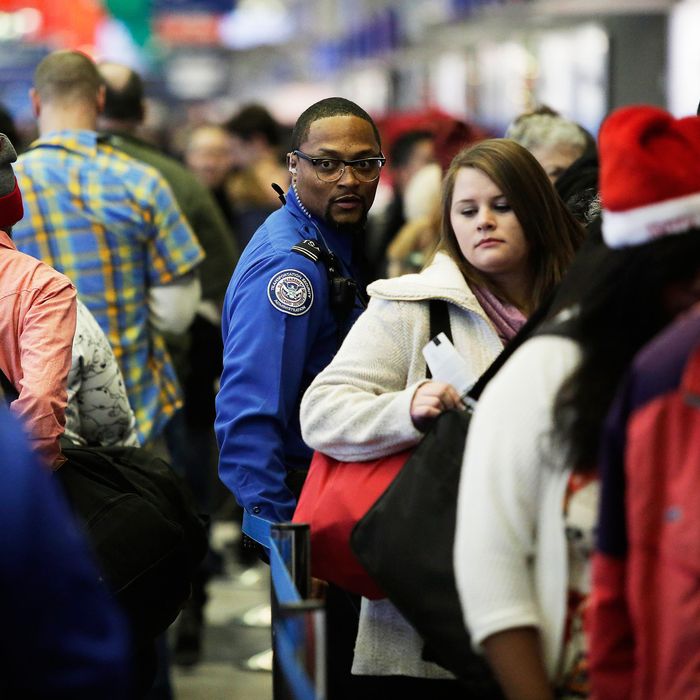 A TSA agent stands with travelers in the TSA security line at O'Hare International Airport on December 23, 2016, in Chicago, Illinois.
Photo: Joshua Lott/Getty Images
Travelers from Europe to the United States will be able to lug their laptops in their carry-on luggage, at least for the time being. Politico reported that the matter appeared to be settled during a call between Department of Homeland Security Secretary John Kelly and his European Union counterparts, with partners agreeing to hold off on expanding the ban on laptops in airplane cabins. However, the Department of Homeland Security clarified the nondecision decision later, saying in a statement that "the Secretary [Kelly] made it clear that an expansion is still on the table."
The United States had been mulling the expansion of a laptop ban put in place earlier this year, which bars people from carrying large electronics into the airplane cabins from flights originating at ten airports, primarily from Muslim-majority countries in Middle East and North Africa. The U.S. had announced that it was considering extending that new rule to include flights from Europe — and Secretary Kelly had even floated the possibility of a blanket ban on all international flights to and from the United States as recently as this weekend. The initial ban was in response to intelligence, since shared with the Russians, that suggests terrorist groups are trying to secret explosive devices into laptops and other large electronic devices.
As has been noted, the laptop ban comes with its own safety concerns, as lithium batteries stowed in cargo could potentially catch fire. Bloomberg reports that the EU and the U.S. can't seem to figure out the best way to balance the security and safety risks, and are trying to figure out some possible alternatives to a ban, such as some sort of enhanced screening techniques. According to DHS, the U.S. and its European partners at least settled "on the need to raise the bar for aviation security globally, including through a range of potential seen and unseen enhancements." But DHS added, "Secretary Kelly … will implement any and all measures necessary to secure commercial aircraft flying to the United States — including prohibiting large electronic devices from the passenger cabin — if the intelligence and threat level warrant it."