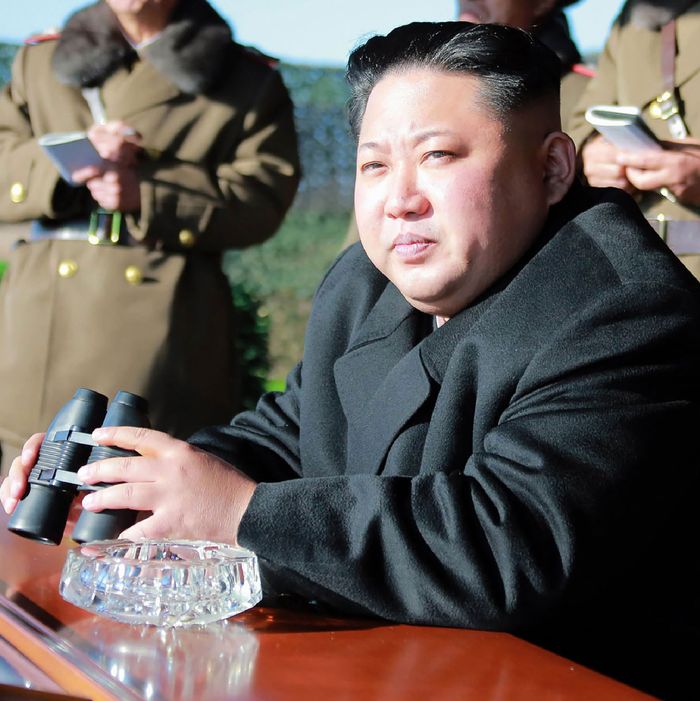 You come for the Kim, you best not miss.
Photo: KNS/AFP/Getty Images
Things are a bit tense right now between the United States and North Korea. Washington suspects that Pyongyang may be weeks away from conducting a sixth nuclear test — and just a couple years away from developing a nuclear missile capable of reaching the coast of California. For its part, Kim Jong-un's regime suspects that the U.S. may be on the cusp of preemptively attacking North Korea — a notion that John McCain and the Trump administration have done little to dispel.
And now, North Korea also suspects — or purports to suspect — that the CIA and South Korea tried to assassinate Kim Jong-un with a biochemical weapon. On Friday, the nation's Ministry of State Security announced that "terrorists" in the American and South Korean intelligence agencies had conspired to kill the supreme leader with a delayed-action, radioactive or "nano-poisonous" substance during a public event, the Associated Press reports.
It is not unusual for North Korea to accuse the U.S. of treachery. But Friday's allegation was atypically detailed. The ministry said that the CIA "ideologically corrupted and bribed a DPRK citizen surnamed Kim, the then-worker of the timber industrial branch in the Khabarovsk Territory of Russia in June 2014, and turned him into a terrorist full of repugnance and revenge." The U.S. and South Korea then provided Kim with "20,000 U.S. dollars on two occasions and a satellite transmitter-receiver" and some kind of biochemical weapon.
North Korea promised to "ferret out and mercilessly destroy the last one of the terrorists of the U.S. CIA and the puppet IS of South Korea targeting the dignity of the DPRK supreme leadership."
Pyongyang's allegation came less than 24 hours after the U.S. House of Representatives unanimously passed tougher sanctions on North Korea and any other nations that aid its nuclear and missile programs.