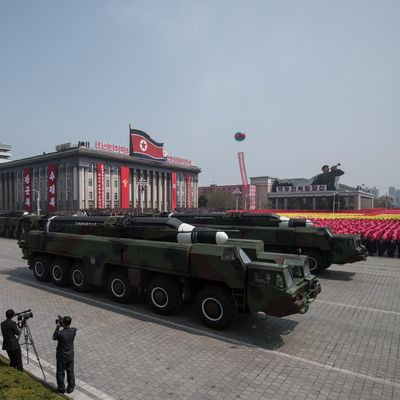 Parade celebrating the 105th anniversary of the birth of North Korean leader Kim Il-Sung in Pyongyang in April.
Photo: Ed Jones/AFP/Getty Images
United States and South Korean officials confirmed that a defiant North Korea fired off a medium-range ballistic missile Sunday, about 50 miles northeast of Pyongyang. The missile flew approximately 300 miles east of North Korea and landed in the waters of the Sea of Japan, according to a statement from the U.S. Pacific Command, which tracked the ballistic missile's path.
This is the latest in a rapid series of North Korean weapons tests, including last weekend's successful launch of a new ballistic missile that Pyongyang claims could carry a nuclear warhead, and which experts say flew higher and longer than previous systems.
This Sunday's missile, and Pyongyang's latest provocation, is almost identical to the one fired off in February, the first North Korean missile test of the Trump era, U.S. officials said. A statement from the White House described this weekend's missile as having "a shorter range than the missiles launched in North Korea's three most recent tests."
Further analysis of the missile test by U.S. and Japanese military officials is still underway. Still, North Korea's second test in a week — and the eighth this year — indicates that the country continues to develop its weapon program apace, despite international condemnation. It's also the second test since South Korea's new president, Moon Jae-in, took office. Moon had expressed an openness to talks with North Korea, but Pyongyang is complicating that aim with its back-to-back tests. As for South Korea, its foreign ministry roundly condemned Sunday's test, calling it a "reckless and irresponsible act that puts cold water on the expectations and aspirations of the Korean government and the international community for the denuclearization of the Korean peninsula."