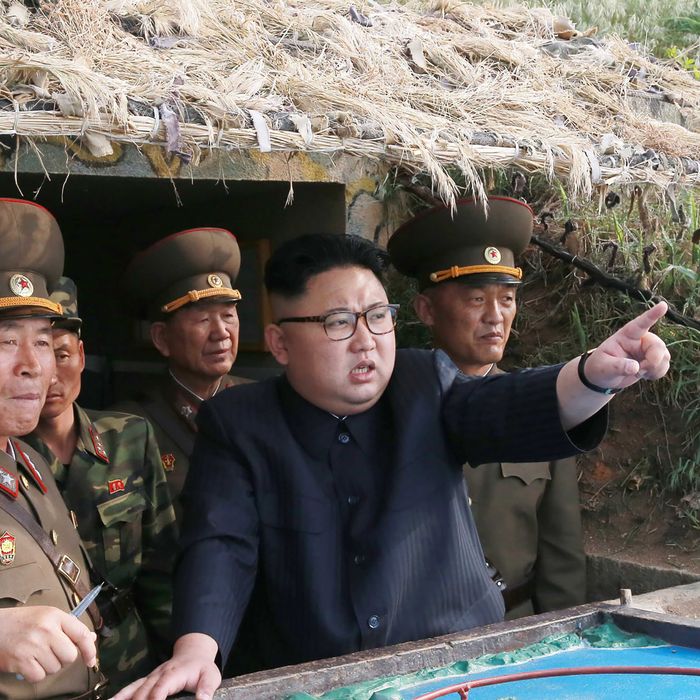 Offers to negotiate directly with Kim Jong-un don't appear to be working.
Photo: STR/AFP/Getty Images
With Pyongyang openly fantasizing about blowing up the U.S. capitol building and Kim Jong-un accusing the United States of trying to assassinate him, relations between North Korea and the U.S. are not in a good place right now. During times of trouble North Korea tends to detain U.S. citizens to use as bargaining chips, and sure enough, they've just arrested a fourth American on suspicion of "hostile acts" against the state.
North Korea's state news agency announced on Sunday that Kim Hak-song was taken into custody on May 6, and "a relevant institution is now conducting a detailed investigation into his crimes." They offered no details on his alleged infractions.
The U.S. State Department said it's aware of the situation. "The security of U.S. citizens is one of the department's highest priorities. When a U.S. citizen is reported to be detained in North Korea, we work with the Swedish embassy in Pyongyang," said a State Department official.
Kim worked for Pyongyang University of Science and Technology, which is an unusual institution for North Korea. It's the country's only private educational institution, it has more than 60 foreign faculty members, and it's funded mostly by Christian groups. (North Koreans are required to worship the ruler and his family, and all other religions are banned.) The university said Kim was doing agricultural development work.
Kim, who is ethnically Korean, was born in China came to the U.S. to study at a university in California in the mid-'90s, according to CNN. Former classmates said he lived in America for about a decade, becoming a citizen in the 2000s, then returned to China, where he studied agriculture. He was passionate about solving North Korea's food shortage, and would use his own money to fund his projects and send food to the impoverished nation.
"Professor Kim was a man who would call North Korea as his own country. He went to Pyongyang to devote himself to the development of North Korea's agricultural technology so that the North can be self-sufficient with food," said David Kim, who studied with Kim Hak-song in the U.S.
"North Korea is persecuting their savior, a person who came to help them. This is wrong," said David Lee, another former classmate.
North Korea detained another American professor, Kim Sang-dok or Tony Kim, two weeks ago. The Washington Post reports that he was teaching a class on international finance and management at Pyongyang University of Science and Technology.
Two other Americans were convicted and sentenced in North Korea last year. Otto Warmbier, a 22-year-old University of Virginia student, was accused of subversion for attempting to steal a propaganda sign. The regime claimed Kim Dong-chul, a 62-year-old Korean-American missionary, was a spy. They were each sentenced to at least a decade of hard labor and have not been seen or heard from since.