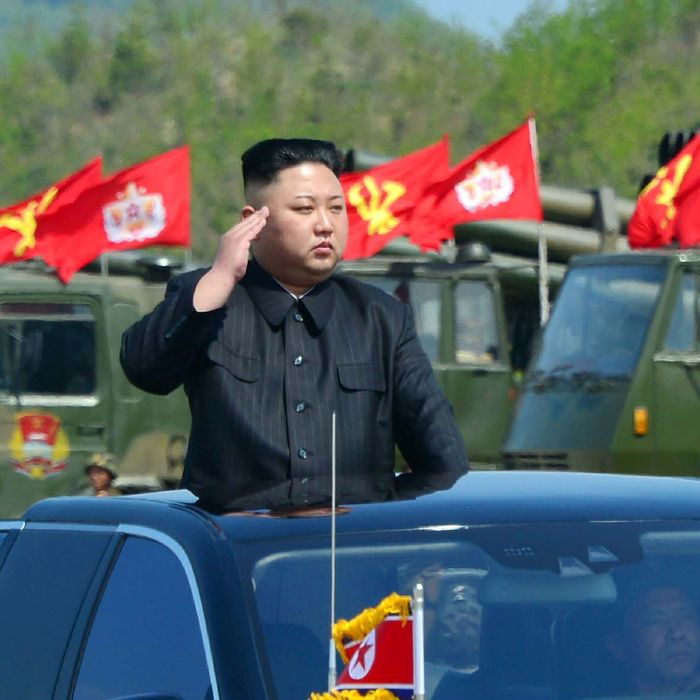 This undated picture released by North Korea's official Korean Central News Agency (KCNA) on April 26, 2017, shows North Korean leader Kim Jong-un.
Photo: KCNA/AFP/Getty Images
A North Korean short-range nonnuclear ballistic missile test failed over the weekend, the latest in a series of provacations from Pyongyang. And on Monday, North Korea committed to stepping up its nuclear testing program "to the maximum" — signaling it remains uncowed by U.S. pressure.
"Now that the U.S. is kicking up the overall racket for sanctions and pressure against the DPRK … the DPRK will speed up at the maximum pace the measure for bolstering its nuclear deterrence," a spokesman for North Korea's foreign ministry said in a statement, released through the state-run news outlet.
The statement added that such "measures for bolstering the nuclear force to the maximum will be taken in a consecutive and successive way at any moment and any place decided by its supreme leadership."
Fears of another North Korean nuclear test remain high. President Trump, afted North Korea's failed missile test, told reporters "you'll soon find out" about the U.S. response. He did not offer any other details.
Trump also sparked a small international misunderstanding when he suggested South Korea, instead of the U.S., should pay for its $1 billion missile-defense system (Terminal High Altitude Area Defense, or THAAD), which is being installed and should be operational soon in South Korea, says the New York Times. National Security Adviser H.R. McMaster smoothed over the misunderstanding in a call to his South Korean counterpart, reassuring the ally that the U.S. would shoulder the cost, as agreed. Still, the missile-defense system has been a source of ire for China, which sees it as a national-security threat, and also within South Korea, where it has faced protests and opposition from some South Korean leaders.