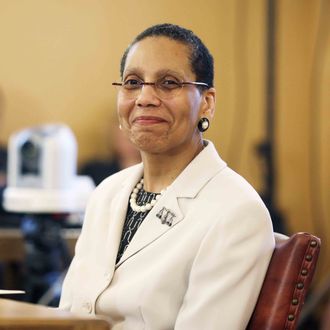 Judge Sheila Abdus-Salaam.
Photo: Mike Groll/AP
New York Court of Appeals Judge Sheila Abdus-Salaam was found dead on April 12, her body floating in the Hudson River. The NYPD had classified the death of 65-year-old Abdus-Salaam as "suspicious," and after weeks of examination, have now finished the investigation, reports The Wall Street Journal.

NYPD Chief of Detectives Robert Boyce said all evidence has been turned over the medical examiner's office, which will make the final determination on the cause of death.
Police officials believe that Abdus-Salaam — who was the first African-American woman to serve on the state's highest court — committed suicide. According to CBS 2, barring a surprising discovery by the medical examiner, authorities are not considering another possibility. Investigators have found no evidence of foul play, and her body, when discovered, had no visible signs of trauma. The Daily News reported last month that she had been captured on surveillance video, walking alone, at least nine times the night before her death, including footage of her entering Riverbank State Park at West 145th Street after midnight on April 12. That was the last time she was seen; her body was spotted near 132nd Street more than 12 hours later.
Abdus-Salaam's husband, Reverend Gregory Jacobs, had previously shot down speculation that the judge had taken her own life, saying it amounted to "unfounded conclusions" that had "no basis in reality." Other friends and family reportedly told police that the judge had struggled with depression, though Abdus-Salaam, based on the investigation, did not leave behind a suicide note.