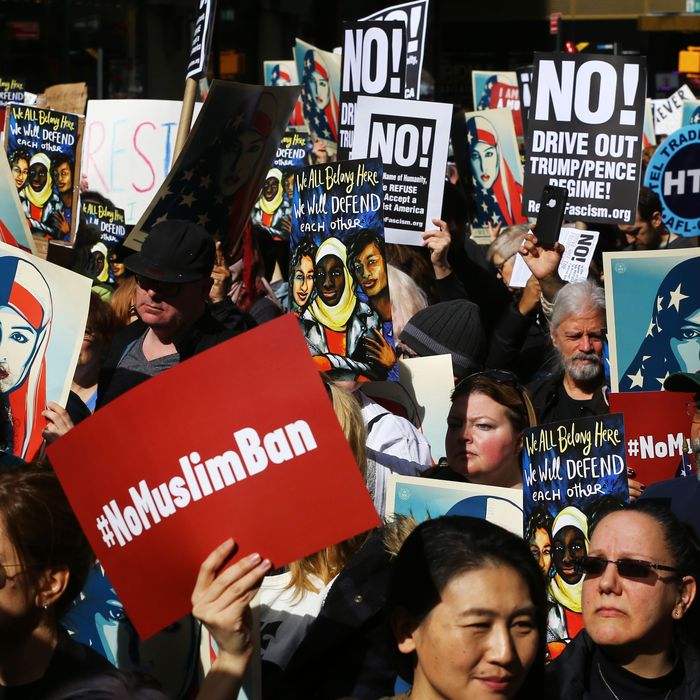 Yet another federal court agrees that Trump's travel ban is really an unconstitutional Muslim ban.
Photo: Volkan Furuncu/Anadolu Agency/Getty Images
Once again, the Trump administration has suffered a judicial setback in seeking to implement its second proposed travel ban, as an unusual 13-judge panel of the Fourth Circuit Court of Appeals agreed by a 10–3 margin that a lower court had reason to believe the ban was simply a veil for an unconstitutional ban affecting Muslims, based on comments before his election by the president and key aides.
On its own timetable, there is a separate Ninth Circuit review of a Hawaii judge's injunction against the travel ban, made on very similar grounds. A three-judge panel of the Ninth Circuit held a hearing on May 15, in which the judges did not sound sympathetic toward the Justice Department's argument that preelection statements were not germane to a president's executive orders, so long as they are not unconstitutional on their face. So the odds are high that the administration is going to lose there, too. But either way, only the Supreme Court can clear the path to enforcement of the order. And it may well choose to clear up the law in this area, since a district-court judge in Virginia turned down arguments identical to those made in lower courts in the Fourth and Ninth circuits. The president has repeatedly vowed to appeal the adverse decisions to SCOTUS.
But SCOTUS may not rush to the president's aid, as Matt Ford observed earlier this month:
A final decision could be almost a year away even if the justices accept the case. The Court's summer recess begins next month, meaning the administration would likely have to wait until the next term begins in October before the justices could hear oral arguments in the matter.
What are the administration's options if SCOTUS drags its feet or turns down its appeal? Well, presumably, it would have to make some pronouncement designed to show that the policy-makers in the White House had decisively changed their minds about Muslims. Perhaps they could display some photos of that orb-sharing Friend of Islam in Riyadh last week, and say: "Never mind!"