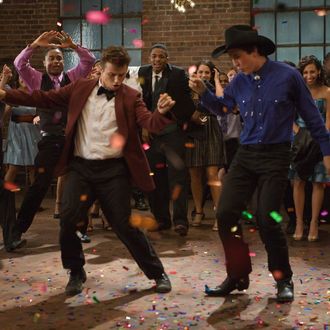 Photo: K.C. Bailey/Paramount Pictures
On occasion, partially out of curiosity and partially because I hate myself, I will look at replies people send to Donald Trump on Twitter. This is a bad idea, but I do it anyway. Trump replies fall into three general categories: MAGA supporters, #resistance detractors, and blue-check-verified journalists hoping to catch a gaggle of retweets from the Donald's halo effect. Twitter weights verified responders so that they show up at the top of replies.
Perusing Trump replies yesterday, I spotted something curious: A verified account had tweeted at Donald Trump. Its avatar was Hillary Clinton's face; its display name was "The resistance"; and its Twitter handle was @FootlooseMovie. It appeared that someone had hijacked the Twitter account of the 2011 remake of Footloose, and was broadcasting anti-Trump messages to 17.2 thousand Footloose (remake) fans. Six years after the film was released.
Footloose, if you don't recall, is the saga of Ren McCormack, who moves to the rural town of Bomont and finds, to his dismay, that the town has outlawed dancing. Town elders fear that it will make the teenagers too horny, and that they will die from accidents caused by the horniness. The 2011 version, which does not feature Kevin Bacon or Lord Farquaad, has a Metacritic score of 58, which translates to "ehhhh."
It would be easy enough to just change the Twitter handle, but whoever was behind the account either didn't know that they could, or simply decided not to.
I pointed this odd internet thing out in one of the most viral tweets of all time, and was subsequently and swiftly blocked by @FootlooseMovie for doing so.
Last night, someone from Paramount, the film's distributor, appears to have wrested the Footloose account away from the #resistance, having been notified by my tweet (extremely viral) and an inquiry from the Wrap (which neglected to credit my scoop). The resistance tweets are gone. Paramount has returned @FootlooseMovie to its rightful purpose, reminding you that Footloose is available on Blu-ray/DVD Combo Pack (TM) wherever home videos are sold. It's Facebook page remains untouched.
They also unblocked me, which was very nice. Let's hear it for the Footloose-remake Twitter account.