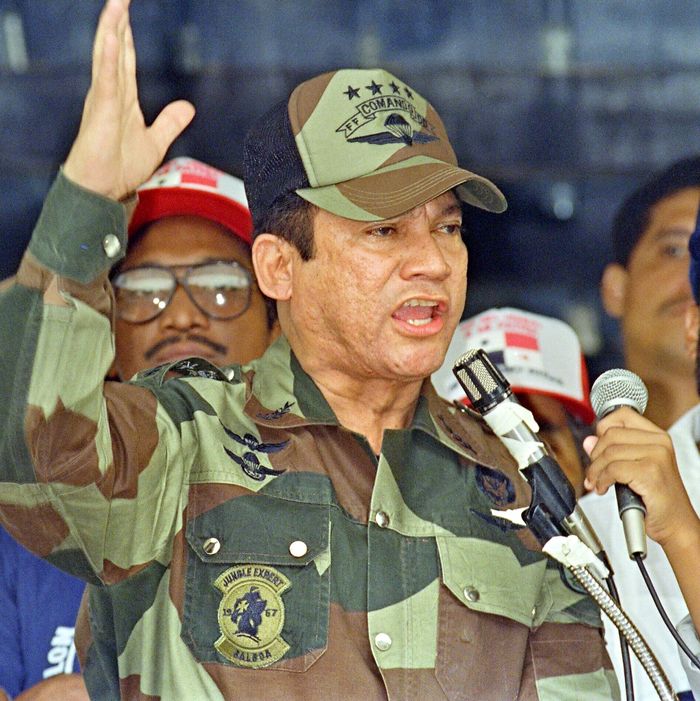 Noriega speaks in Panama City in May 1988.
Photo: ANGEL MURILLO/AFP/Getty Images
General Manuel Noriega, who ruled Panama with an iron fist from 1983 until he was ousted by U.S. forces in 1989, died on Monday. He was believed to be 83, though his exact birth date is unknown.
Panamanian President Juan Carlos Varela announced the news, tweeting, "The death of Manuel A. Noriega closes a chapter in our history."
The former dictator's cause of death has not been released, but he had been in the hospital for months following surgery to remove a benign brain tumor. He is survived by his wife, Felicidad Sieiro de Noriega, and his three daughters, Thays, Sandra, and Lorena.
Noriega rose through the ranks of Panama's Defense Forces in the '60s, becoming a loyal aide to General Omar Torrijos, who came to lead the country after a 1968 coup. Torrijos died in a plane crash in 1981 and Noriega took control two years later.
At that point, Noriega had been working as an informant for the U.S. intelligence services for decades, and he was initially considered a valuable U.S. asset in Latin America. Opponents accused Noriega of killing political opponents and working with drug cartels, and the U.S. eventually soured on him. In 1988, federal grand juries in Florida indicted Noriega on federal narcotics-trafficking and money-laundering charges. In December 1989, President George H.W. Bush ordered the invasion of Panama. After taking refuge in the Vatican Embassy in Panama City, Noriega was forced out of the building by U.S. forces blaring rock music.

Noriega was taken to Florida and two years later he was convicted on eight of ten charges. After serving a 17-year sentence in the U.S., in 2007 U.S. officials agreed to extradite him to France, where he was sentenced to seven years for money laundering. In 2011, he was extradited to Panama, where he had been convicted in absentia for killing his political opponents.
He maintained that he was the victim of a U.S. conspiracy to keep him behind bars.
"Why, after being the man the United States could count on, did I become the enemy?" Noriega asked a reporter during a jailhouse interview in the early '90s. "Because I said no. No to allowing the United States to run a school for dictators [the U.S. military's School of the Americas] any longer in Panamanian territory. No to the request that Panama be used as a staging base for the Salvadoran death squads and the Nicaraguan contras. Lots of no's."