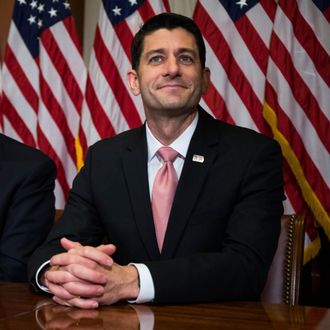 Paul Ryan
Photo: Zach Gibson/Getty Images
The year is 2017, and Paul Ryan has just discovered GIFs. Speaking with Axios founder Mike Allen on Wednesday, Speaker Ryan discussed his habit of texting members of Congress. "Yeah, yeah, you're talking about GIFs or Giphys — what are these things called? GIFs?" Ryan said to Allen. "These things are awesome. I learned about this like three weeks ago." He then proceeded to highlight three of the GIFs he's sent lately.
GIF No. 1: "I got one with Stifler here, doing "Yes!" It's an Old School … He's got a big mullet here." [Editor's note: Stifler is a character in American Pie, played by actor Seann William Scott. This GIF is from Old School, which also stars Scott.]
GIF No. 2: "I got one with Britney Spears doing this [Ryan demonstrates a thumbs up]." This GIF could also potentially be this one or this one. Apparently, Spears has a thing for the thumbs up.

GIF No. 3: "Captain Obvious. These things are pretty damn funny, I think." It's unclear which Captain Obvious GIF Ryan is referencing here, but here's our best guess.
Ryan also said he enjoys sending GIFs "to people who really don't expect" such behavior from him. Which means you should all probably go check your phones and see if he texted you a little Britney Spears this Wednesday afternoon.