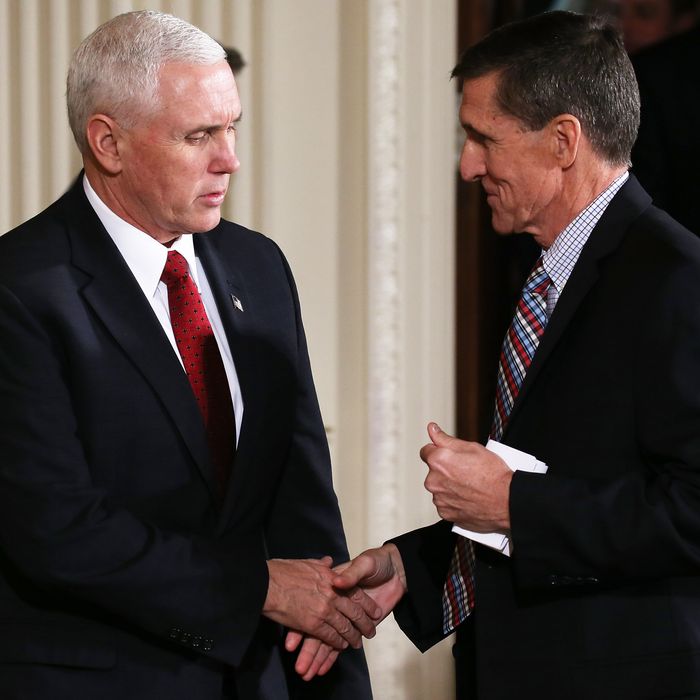 "Hello, sir, and whom might you be?"
Photo: Mario Tama/Getty Images
If Mike Pence goes from being an Indiana governor with questionable reelection prospects to the leader of the free world in a few short years, he will have pulled off one of the most stunning reversals in American politics. However, at the moment, he's in quite the pickle. He's serving an erratic and scandal-plagued president who values loyalty so much that he allegedly pressured the FBI director to say he supports him. If Pence aligns himself too closely with Trump, he could wind up being forced out of politics along with him, or worse. Yet distancing himself and appearing too ambitious could incur Trump's wrath, costing him his job even sooner.
Pence's solution: Promote the administration's talking points, and if you're accused of lying, quietly portray yourself as the victim of the slick political players you work with.
Pence used this strategy very effectively when it was revealed that National Security Adviser Michael Flynn discussed U.S. sanctions with Russian ambassador Sergey Kislyak. This was a problem for Pence since he had insisted on Face the Nation that Flynn did no such thing. In February, Flynn was forced to resign not for having inappropriate talks with the Russian ambassador, but for lying to Pence.
The Flynn controversy came up again about a month later, when it was reported that Flynn had warned the Trump transition team — which was led by Pence — that he might need to register as a foreign agent for his lobbying work with Turkey. Flynn was hired anyway, and when he retroactively registered in March, Pence suggested he knew nothing about the issues surrounding Flynn's lobbying. In a Fox News interview he said twice, unprompted, that it was "the first I'd heard of it."
This week the New York Times reported that Flynn hadn't just warned the Trump transition team about possibly being a foreign agent; he also revealed that federal investigators were looking into his lobbying work. On Thursday, an unnamed White House spokesperson issued a brief statement declaring that the unnamed sources who spoke to the Times were "flat wrong."
A Pence aide, who also declined to be named, added, "The vice president stands by his comments in March upon first hearing the news regarding General Flynn's ties to Turkey and fully supports the president's decision to ask for General Flynn's resignation."
This would seem to suggest that Pence did a terrible job as head of the transition team and didn't even know how to Google Flynn. But hours later a source floated a possible explanation to NBC News: People on the transition team intentionally kept things from the vice-president-elect. "There's a pattern as it relates to the Flynn situation — vis a vis Pence — that he was never, either intentionally or unintentionally, made aware of the facts," the source said.
The source then tried to distance Pence from Flynn, saying the two men "never" had a personal relationship and "you never saw him promoting Flynn." It was Trump who wanted Flynn to have a position in his administration, but the source — who some speculated might be might Pence — made it clear that no one is faulting the president.
The source close to the administration did not blame President Donald Trump for allegedly not making the vice president aware, suggesting it was likely the president had assumed Pence and his team were "in the loop."
So who's to blame? Perhaps White House Counsel Don McGahn, who reportedly had several talks with Flynn's lawyers about his lobbying while serving as chief lawyer for the transition. "It's also a fact that if [Flynn] told McGahn that during the transition, it's also a fact that not only was Pence not made aware of that, no one around Pence was as well," the source said. "And that's an egregious error — and it has to be intentional. It's either malpractice or intentional, and either are unacceptable."

Still, how could Pence claim in March that he'd just learned about Flynn's questionable lobbying when it was widely reported in the months after the election, and Representative Elijah Cummings even wrote Pence a letter on November 18 bringing the matter to his attention? "I'm not sure we saw the letter," said the source.
Pence sparked another controversy this week when he filed paperwork to launch his own PAC, the Great America Committee, which is a first for a sitting vice-president. With all the talk of "President Pence" this week, it seemed odd that he was suddenly separating his political activity from Trump's.
But late on Thursday night the Daily Beast reported that the president and his top aides had signed off on the move. "The vice president wanted to ensure that the president and senior administration officials agreed that this was wise and necessary," said Nick Ayers, Pence's adviser. Ayers said campaign finance lawyers had recommended that this was the best way for Pence to shift assets from his state campaigns into a federal account.
It seems that Pence has a lot to learn about the cynical, duplicitous way people operate in Washington. A senior administration adviser noted to CNN on Thursday that after all the controversy this week, Pence "looks tired" — though he will continue to be a "loyal soldier" because he's "a relentlessly positive guy."
"We certainly knew we needed to be prepared for the unconventional," said the Pence aide, but "not to this extent." Pence is just a simple Midwestern governor (and six-term congressman). How was he to know that the candidate who invited Russia to hack his opponent and joked about groping women would get into so much trouble as president?