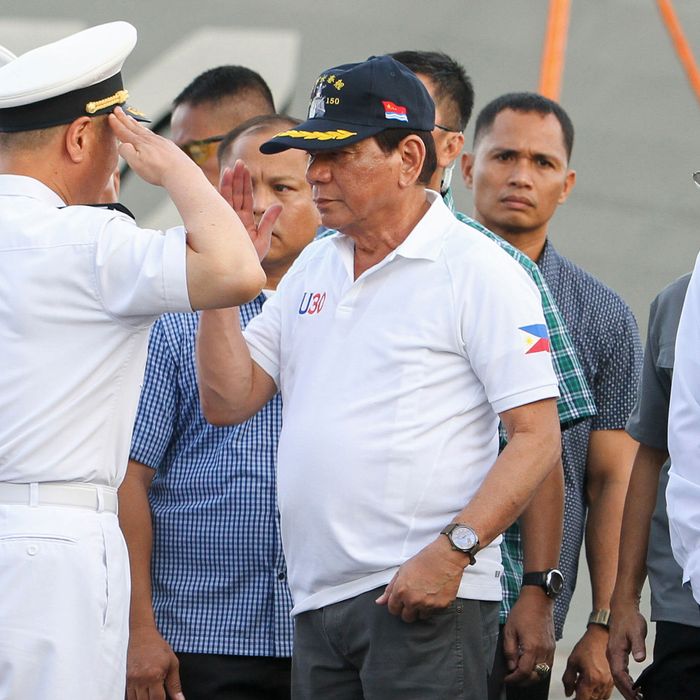 Philippine president Rodrigo Duterte (center) returns a salute from a Chinese naval officer (left), as Philippine defense secretary Delfin Lorenzana (right) looks on during Duterte's arrival to visit the guided missile frigate Changchun berthed at the Davao international port on May 1, 2017.
Photo: Manman Dejeto/AFP/Getty Images
Philippine president Rodrigo Duterte might end up RSVPing "no" to Donald Trump's controversial White House invitation. Speaking Monday about the U.S. president's offer, Duterte told reporters he was "tied up."
"I cannot make any definite promise," he said, citing a busy schedule that includes upcoming visits to Russia and Israel.
On Saturday, during a "very friendly" conversation, Trump asked Duterte to visit the White House, as part of renewed outreach to Southeast Asian leaders in the wake of the North Korea crisis. The United States' relationship with the Philippines became strained under Obama. Duterte had threatened to "break up" with his American allies amid U.S. criticism over Duterte's alleged human-rights violations, namely extrajudicial killings in his nation's war against drug trafficking. The strain had nudged the Philippines, a critical regional ally, closer to China.
The call may have been an attempt at an apparent reset of relations, but Trump's invitation to Duterte drew deep outrage from human-rights groups, and reportedly surprised members of Trump's own administration.
But even if Duterte is too busy to make the trip to Washington, D.C., the Philippine president struck a more positive tone about U.S. relations while touring Chinese warships on Monday. "It was not a distancing, but it was rather a rift between me, maybe, and the State Department and Mr. Obama, who spoke openly against me," he said of Obama, whom Duterte once called the "son of a whore." He added: "Things have changed. There's a new leadership."
Later Monday, Trump defended his Duterte invitation, in an interview with Bloomberg News: "The Philippines is very important to me strategically and militarily," the president said. "I look forward to meeting him. If he comes to the White House that's fine."
Trump added that Duterte has been "very, very tough on that drug problem." Despite the evidence that being "very, very tough" has amounted to Duterte flouting the laws, Trump seemed reassured by the Philippine president's high approval rating. "You know he's very popular in the Philippines," Trump said.
When asked during the White House brief about Duterte, Press Secretary Spicer indicated that Trump was aware of Duterte's checkered history."The President gets fully briefed on the leaders that he's speaking to, obviously," Spicer said. "The number-one concern of this president is to make sure that we do everything we can to protect our people and specifically to economically and diplomatically isolate North Korea."


This post has been updated.