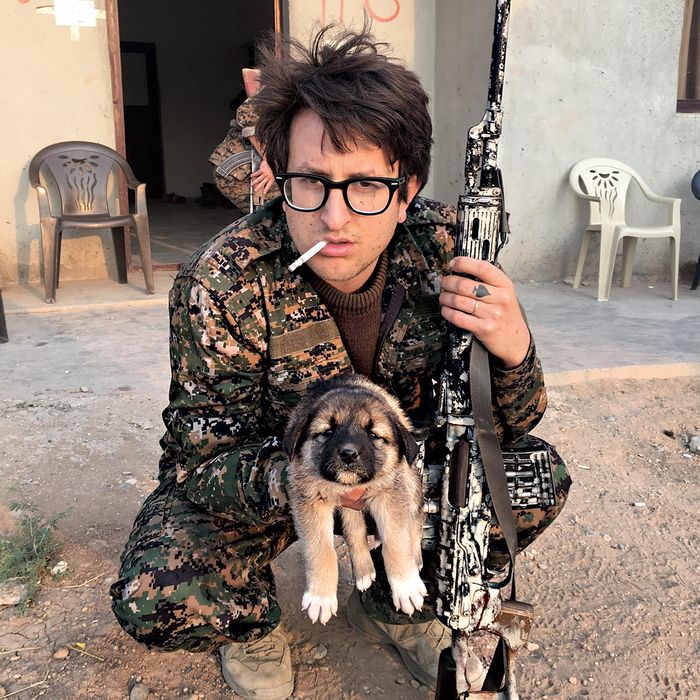 Brace Belden, formerly known as PissPigGranddad.
Photo: Courtesy of Brace Belden
Earlier this month, the Trump administration settled a long debate by approving a plan to provide arms to the YPG, a Syrian Kurdish militia. The YPG has been one of the most effective forces against ISIS in Syria, and the American support is meant to aid an assault on Raqqa, the Syrian city that is one of ISIS's largest remaining strongholds. The plan took so long to come to fruition largely because Turkey, America's biggest ally against ISIS in the region, considers the YPG a terrorist organization. Turkey's prime minister has already condemned the plan, and its implementation will be closely scrutinized to see what kind of support will be offered, and how the U.S. will make good on promises to reclaim the weapons after the battle ends.
"It's not like they're gonna give the YPG a bunch of tanks," Brace Belden, a 27-year-old American who volunteered with the YPG last year, said a week ago. "There's not really any details, so we'll see what it actually means." Belden was speaking from San Francisco, where he returned a few weeks ago after spending six months as a member of the YPG and becoming a minor figure in the conflict thanks to his irreverent dispatches under the Twitter handle @PissPigGranddad. Belden earned more than 30,000 followers, most of them in the left-leaning corners of Twitter, and found upon his return that he had achieved a "pseudo-celebrity" that he wasn't quite sure how to feel about. "I kind of wish I hadn't made my name PissPigGranddad," Belden said, mentioning that people in real life had begun to identify him from his internet persona. "I picked it before I ever thought anyone would say it to me out loud."
One major development in Belden's post-Syria life is that @PissPigGranddad is no more. A few weeks after he got back from Syria, Belden received a message from Twitter alerting him that his account had been suspended as a result of accusations of "targeted abuse or harassment." This wasn't the first time this had happened — in Syria, Belden says he was suspended for a day after making a joke about the boyish appearance of a political pundit and threatening to call the man's mother — but this time, the banishment turned out to be permanent. In early May, Belden received another email from Twitter explaining that he had violated "rules around participating in targeted abuse," and that his account would not be restored. His new handle, if you care to find him, is @PissPigGrandma.
Belden said it was "weird being back" in the U.S. He had recently learned that several YPG fighters he knew had been wounded, and his first commander, a woman who was part of the YPG's all-female fighting brigade, had been killed in a bombing. "Some stuff happened back there that I'm glad I wasn't there for," he said, referencing the American military's air strikes against the Syrian government in early April. At the time, Belden was in a safe house in Iraq, before boarding a series of flights to Cairo, Vienna, Frankfurt, and eventually San Francisco, where he and his girlfriend had been fretting about what impact the Trump administration's embrace of "extreme vetting" might have on an American who had joined a foreign militia: Several days before Belden's return, another American YPG volunteer had been detained at the airport for four hours. Belden was pulled aside for questioning at SFO, but said the experience was a relative breeze. "I spent about an hour talking to some guy who tried to get information out of me, but he didn't know what he was talking about," Belden said. "I think they just Googled me while he was talking to me."
Belden is now settling back into life in the Bay Area, working part-time for the San Francisco Tenants Union, and dealing with his "pseudo-celebrity." An advocacy organization called Bay Area Mesopotamia Solidarity invited him to speak at one of its meetings, while reporters and TV producers have come calling with various offers. "I have a fucking million emails from people at Vice," Belden said. "They think I'm like the perfect Vice story." He had heard from some book agents interested in turning his Twitter feed into something longer-form, but insisted that he wasn't interested in writing a memoir. "If you do the bullet points of what my life has been, it sounds pretty interesting," Belden said. "But I certainly haven't learned any actual lessons."
Belden's Twitter punishment probably didn't come as a big surprise to those who watched his feed closely. There were certainly no shortage of jocular threats to be found, all of which he insists weren't meant to be taken seriously. But he also seemed to begrudgingly admit that it may be best for Twitter to take even playful threats seriously, given the difficulty of judging real threats from fake ones. A spokesman for Twitter declined to comment on the specifics of Belden's punishment, but as far as Belden could tell, his suspension ultimately happened like this: A week after his return to the U.S., Belden went to protest a rally of far-right groups in Berkeley. At the rally, he posted several photos of Nathan Damigo, the white nationalist who was caught on tape that day punching a female protester, in which Belden mocked Damigo's height. Belden says that he later saw chatter from several alt-right figures talking about reporting him to Twitter en masse in the hopes of getting him suspended. "It was just a bunch of Nazis/4chan dudes who were mad at me for making fun of that guy for being short," Belden said.
But victories in online warfare are short, too, and earlier this week, Belden was back as PissPigGrandma. His initial tweet suggested that he hadn't learned any particular lesson: "I mean seriously my guy was 4"8 tops," he wrote, alongside a photo of Damigo. Belden is already back up to more than 11,000 followers.