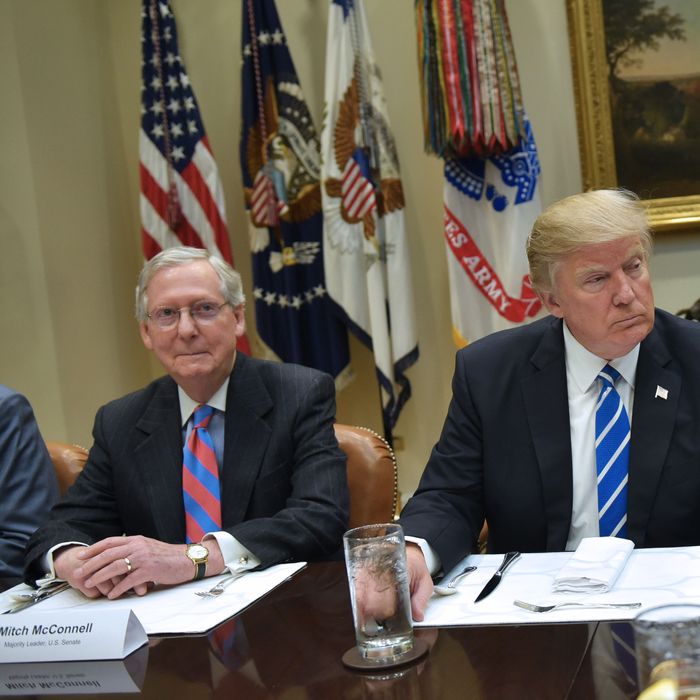 So far, this trio has been a united front.
Photo: Mandel Ngan/AFP/Getty Images
A new NBC News/Wall Street Journal poll conducted after President Trump's firing of FBI Director James Comey indicates that 78 percent of Americans would prefer that an independent commission or special prosecutor investigate Russia's involvement in the 2016 presidential election. Only 15 percent of respondents said they preferred that the GOP-controlled Congress handle the investigation, which would also look into alleged links between Russia and the Trump campaign, while only 40 percent of poll respondents said they have at least some confidence in the ability of Congress to conduct a fair and impartial investigation into the matter. Nearly two-thirds did think the FBI was up to the task, but the future of the FBI investigation is currently unclear following Trump's firing of Comey — which Trump has admitted was at least partially in response to Comey's handling of the investigation.
The poll, which was conducted from May 11-13, indicates that only 29 percent of Americans approve of Comey being fired. Thirty-eight percent disapprove, and that percentage goes up in relation to how close respondents have been paying attention to the story. That being said, though 90 percent of respondents were aware of Trump's firing of Comey, a total of a third said they didn't know enough about the story to have an opinion, which seems like a lot of people either not paying much attention or still unwilling to form an opinion, despite the wall-to-wall media coverage of the White House crisis.
The partisan lines are, as usual, prevalent in framing the responses as well. Nearly two-thirds of Republicans said they believed the Trump administration's (first) stated rationale for firing Comey — that it was in response to the way the FBI director had mishandled the investigation into Hillary Clinton's use of a private email server. Despite Trump himself later contradicting that reasoning, a total 38 percent of Americans bought that original spin from the White House as well, while 46 percent of Americans and 74 percent of Democrats believe Trump fired Comey to hamper the FBI's Russia investigation. Fifty-eight percent of Republicans agreed with Trump's decision.
Ultimately, 30 percent of the poll's respondents said that Comey's firing gave them a less-favorable impression of Trump, while 61 percent were unmoved in either direction. Trump's overall approval numbers remained essentially unchanged since last month, however, even in light of the Comey news.