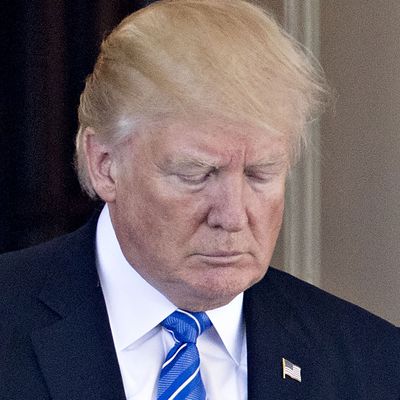 So sick of winning.
Photo: Andrew Harrer/Bloomberg via Getty Images
President Trump has never been popular. More than half of the country disapproved of the GOP standard-bearer on the day he was elected, and that vocal majority has largely persisted through all the days since.
Which is another way of saying: Trump doesn't need to be popular. Not electorally, anyway. His party's structural advantage in the Electoral College — combined with our nation's myriad barriers to voter participation — give candidates with strong support from elderly white people a decent shot to rule without majoritarian consent.
And so, even as Trump's disapproval numbers have crept steadily upward over the past four months, the president could take solace in the resilient support of his base. Sure, "coastal elites" may not like having a president who tweets baseless felony accusations against his predecessor; describes the press as the "enemy of the American people"; and finances tax cuts for the wealthy by throwing millions off of Medicaid. But as countless polls and enterprise pieces filed from Trumpland, U.S.A., reminded us, the "forgotten men and women" of Middle America still think their nation is great again.
And, of course, Trump's support from large masses of inert American soil is unwavering.
But over the past few days, some cracks have begun to appear in Trumpism's foundation. Last week, Quinnipiac found Trump's support among white men falling significantly: In April, the demographic approved of the president 53 to 41 percent; one month later, that margin was down to 48 to 46.
And a PPP poll released Tuesday portrays an even more severe erosion in Trump's base of support. The survey shows that Americans wish Hillary Clinton had won in November by a margin of 49 to 41 percent — and that 10 percent of Trump voters now wish they'd elected Crooked Hillary.
What's more, the poll finds 12 percent of Trump voters saying that they would support the president's impeachment. In total, 48 percent of Americans told PPP that Trump should be removed from office, while only 41 percent rejected that idea. This is the first time that the pollster has found plurality support for Trump's impeachment.
The survey also shows that Americans support an independent investigation into Russia generally — and the appointment of a special prosecutor specifically — by a 62 to 28 percent margin. If that investigation reveals collusion between Trump's campaign and the Russians, 54 percent say that the president must resign, while only 34 percent say he should remain in office.
The numbers aren't any sunnier for Trump's allies in Congress. Last week, Quinnipiac showed Democrats leading the generic congressional ballot by 16 points — well over the margin necessary to overcome the GOP's structural advantages, and a higher margin than any major pollster assigned to either party at any point during the 2014 or 2016 election cycles.
PPP's poll suggests Quinnipiac may be less of an outlier than many assumed. One month ago, the pollster had Democrats up by just 6 points in the generic ballot — now, they're up by 11. And among voters who say that they're "excited" to turn out in 2018, the Democratic advantage swells to 27 points.
The GOP's woes are largely attributable to its radically regressive health-care bill. A mere 25 percent of voters support the American Health Care Act (AHCA), while 52 percent oppose it. Even among Republicans, the bill musters only 49 percent support.
The potency of AHCA as a midterm issue was affirmed by a separate Priorities USA poll released Thursday.
Finally, PPP ran a bunch of (way too early) 2020 hypothetical matchups. Every prospective Democrat outpolled Trump — Joe Biden, Bernie Sanders, and Elizabeth Warren all beat him by double digits. Dwayne "the Rock" Johnson edged Trump by five.
Anyhow, we're only four months into Trump's tenure. A lot will happen between now and November 2018 — let alone 2020. If AHCA dies in the Senate — and Trump stops making such a strong case for his own impeachment on a near-daily basis — the Republican House majority may be fine. By some estimates, thanks to gerrymandering and the clustering of Democratic voters, the GOP could retain the House even if they receive 7 percent fewer votes than the Democrats do.
But as of this writing, Trump is giving his party little cause for optimism.