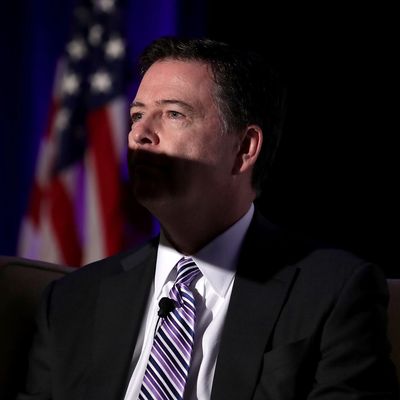 A man who suddenly has a lot more time to read Reinhold Niebuhr.
Photo: Chip Somodevilla/Getty Images
• Comey learned he was fired from a TV report while addressing FBI agents in Los Angeles.
• Federal prosecutors just issued grand jury subpoenas to associates of former National Security Advisor Michael Flynn as part of the probe into Russia's election meddling.
• Democrats, and a few Republicans, have expressed concerns about Comey's firing and called for an independent Russia investigation.

On Tuesday afternoon, the FBI revealed that James Comey had misled Congress about the number of Clinton-related emails that Huma Abedin had forwarded to Anthony Weiner. About an hour later, the White House announced that it would be looking for a new FBI director.
"Today, President Donald J. Trump informed FBI Director James Comey that he has been terminated and removed from office," the administration said in a statement. "President Trump acted based on the clear recommendations of both Deputy Attorney General Rod Rosenstein and Attorney General Jeff Sessions."
It seems unlikely that Comey's termination was motivated by the White House's deep aversion to hyperbolic attacks on associates of Hillary Clinton. In making his case for the firing, Deputy Attorney General Rosenstein argued that Comey's handling of the Clinton investigation — from unilaterally declaring the inquiry closed, to publicly reviving it with his infamous October letter — was irresponsible and inappropriate.
It's possible that these are the administration's genuine concerns (though, if so, it's difficult to understand why Comey was retained until now).
It's also possible that the White House saw Comey's latest blunder as an excuse to dispatch the man who was leading an investigation into links between the Trump campaign and Russian meddling in the 2016 election — and replace him with someone more loyal to the president. Comey's firing drew comparisons to Richard Nixon's Saturday Night Massacre, in which the attorney general and his deputy resigned after refusing the president's order to fire the Watergate special prosecutor.
Fortunately, Trump has worked tirelessly to earn the trust of his detractors, and so few will suspect the latter intention.
Then again, on Tuesday night CNN reported that in recent weeks federal prosecutors just issued grand jury subpoenas to associates of former National Security Advisor Michael Flynn, which is a significant escalation of the probe into possible ties between the Trump campaign and Russia. The subpoenas issued by the U.S. Attorney's Office in Alexandria, Virginia, sought business records from people who worked with Flynn on contracts after he was forced out of his position as director of the Defense Intelligence Agency in 2014.

In an interview on Fox News, deputy White House press secretary Sarah Huckabee Sanders said she doesn't think Comey's firing affects the Russia investigation at all – while mentioning in the same breath that it's "time to move on" from the Russia probe.
Comey was three years into a ten-year term, and he is only the second FBI director to ever be fired. He learned of his dismissal as he was addressing FBI employees in Los Angeles. The news flashed on TV screens in the background, and according to The New York Times, Comey initially thought it was a joke:
In response, Mr. Comey laughed, saying he thought it was a fairly funny prank.

Then his staff started scurrying around in the background and told Mr. Comey that he should step into a nearby office.

Mr. Comey stopped addressing the group. He proceeded to shake hands with the employees he had been speaking to. Then he stepped into a side office, where he confirmed that he had been fired. At that point, he had not heard from the White House.
A local news helicopter trailed Comey's motorcade as he traveled through L.A. on Tuesday evening. CNN began broadcasting the feed around 8: 30 p.m.
Watch Comey's testimony on Clinton's emails:
Under the normal rules of succession Comey's deputy, Andrew McCabe, would become acting director. He initially declined to say whether he was now in charge of the bureau, but just before 8 p.m. FBI employees received an email from Sessions announced that McCabe is their new boss.
"By operation of law and effective immediately, deputy director Andrew McCabe assumed the position of acting director of the F.B.I. As you well know, the F.B.I. is an exceptional law enforcement and intelligence agency," Sessions said. "It is made so by you, the devoted men and women who work tirelessly to keep our country safe. Thank you for your steadfast dedication and commitment during this time of transition."
The White House said it will begin searching for a new FBI director immediately.
Following Comey's firing, Senate Minority Leader Chuck Schumer demanded that Deputy Attorney General Rod Rosenstein appoint a special prosecutor to handle the investigation into the Trump campaign's alleged ties to Russia. He said that if he failed to do so, "every American will rightly suspect that the decision to fire Director Comey was part of a cover-up."
Politico reports that before announcing Comey's firing, Trump called several key senators to inform him of his decision, including Judiciary Committee ranking member Dianne Feinstein and subcommittee chairman Lindsey Graham. Schumer said that when Trump called, he told him, "With all due respect, you are making a big mistake."
Like many Republicans, Senator Chuck Grassley pointed out that President Trump has every right to fire the FBI director. "The FBI Director serves at the pleasure of the president," Grassley said. "Under these circumstances, President Trump accepted the recommendation of the Justice Department that the director lacked the confidence needed to carry out his important duties." As chairman of the Senate Judiciary Committee, Grassley will oversee the nomination process for Comey's successor.
However, a handful of Republican lawmakers said they were concerned by Comey's firing, including Trump ally Richard Burr, who chairs the Senate Intelligence Committee.
Late on Tuesday night, Trump suggested that the only important take away from his decision to fire the FBI director leading an investigation of his campaign is that Schumer is a hypocrite.
This post has been updated throughout.