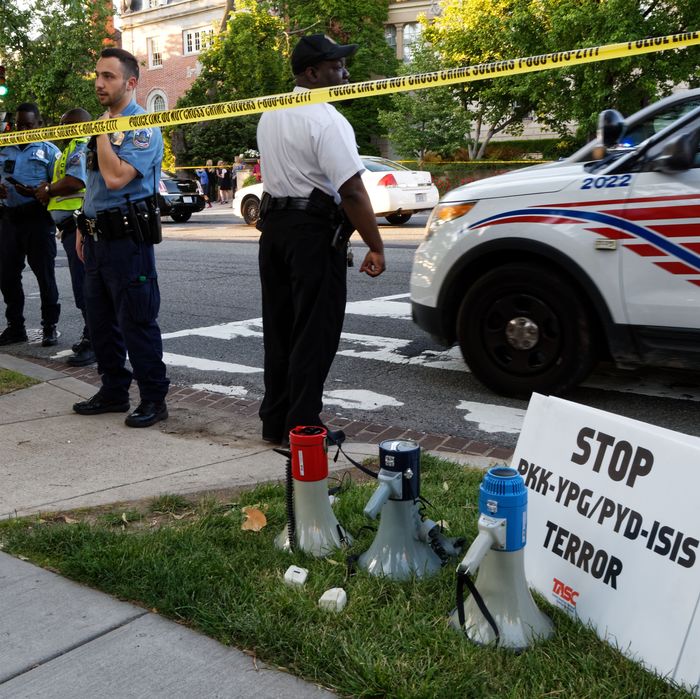 Police secure the street outside the Turkish embassy during a visit by Turkish President Recep Tayyip Erdogan on May 16, 2017, in Washington, D.C.
Photo: DAVE CLARK/AFP/Getty Images
Hours after President Trump met with Turkish president Recep Tayyip Erdogan at the White House on Tuesday, a bloody brawl broke out at a protest outside the Turkish Embassy on Washington's Embassy Row. Eleven people were injured, including one police officer; nine of the victims were hospitalized, according to the New York Times.

The brawl broke out between protesters and supporters of President Erdogan, including some of his bodyguards, NBC News confirmed with U.S. officials. The Metropolitan Police Department had initially suggested that the fighting broke out between opposing groups of demonstrators. Department spokesperson Dustin Sternbeck said two people were arrested, including one who was charged with assaulting a police officer.
Video of the incident shows a man with a bullhorn being kicked in the head repeatedly by several men in dark suits and others kicking a woman lying on the ground, with police using batons to drive off the attackers.
State Department spokesperson Heather Nauert said in a statement that the United States was "concerned by the violent incident" between the protesters and members of Turkish security. The U.S. is responding, according to the statement, by "communicating our concern to the Turkish government in the strongest possible terms."
Metropolitan police chief Peter Newsham called it a "a brutal attack on peaceful protests," and added that the the police department is working with the State Department and Secret Service on the matter.
Flint Arthur of Baltimore, Maryland, told CNN that he was with a group "protesting (Erdogan's) policies in Turkey, in Syria and in Iraq." He accused Erdogan supporters of crossing police lines to attack protesters at least three times.
"They think they can engage in the same sort of suppression of protest and free speech that they engage in in Turkey," Arthur said. "They stopped us for a few minutes … but we still stayed and continued to protest Erdogan's tyrannical regime."
Voice of America was one of the first to report that some of the people involved in the brawl were Erdogan's guards. A year ago, Turkish journalists said they were physically attacked by Erdogan supporters and his guards in D.C. as they attempted to cover the president's speech at the Brookings Institution.
Following a coup attempt last year, Erdogan launched a crackdown on dissenters, arresting nearly 50,000 people, including police officers, military officials, journalists, prosecutors, judges, and civil servants. Last month, Erdogan won a referendum granting him vast new powers, which was seen as taking Turkey further down the path from democracy to authoritarian rule.
Trump responded to the vote with a congratulatory phone call to Erdogan, and he was greeted warmly at the White House on Tuesday, though there is tension between the two countries. Erdogan opposes the Trump administration's decision to arm Syrian Kurds to aid in the fight against ISIS, because Turkey believes the militias are tied to the PKK, which both Washington and Ankara consider a terrorist group.
The leaders did not delve into the issue in their public remarks. "We've had a great relationship and we will make it even better," Trump said during his Oval Office meeting with Erdogan. "We look forward to having very strong and solid discussions."
This post has been updated throughout.