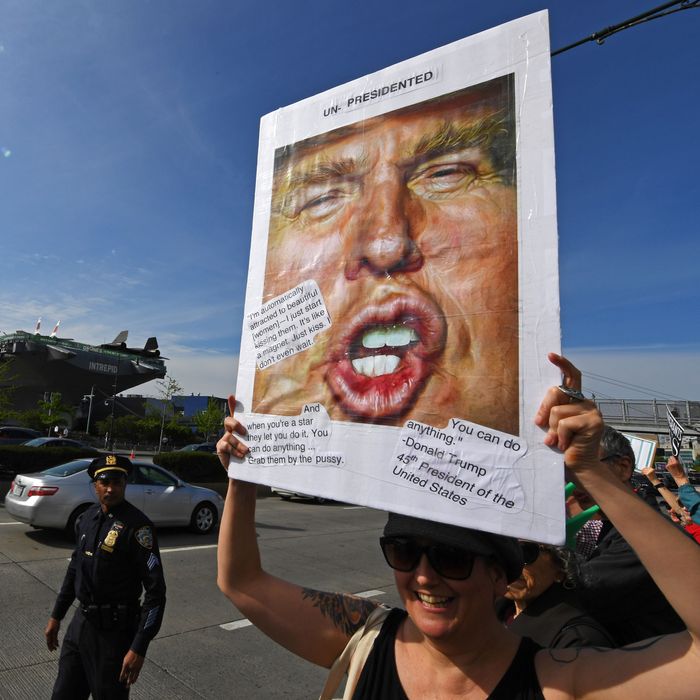 Protesters gather near the U.S.S. Intrepid, a decommissioned World War II aircraft carrier, now the Intrepid Sea, Air and Space Museum, to protest President Trump's May 4 visit.
Photo: Timothy A. Clary/AFP/Getty Images
Donald Trump is back in his hometown, his first visit to New York City since Inauguration Day. The president's already short trip — he planned to sleep at his club in Bedminster, New Jersey, instead of Trump Tower on Fifth Avenue — became even more truncated after he ended up sticking around Washington, D.C. this afternoon, where he presided over a celebration to mark Trumpcare's passage in the House.
But even before Trump touched down at JFK (he landed around 6 p.m.) the protesters had already been gathered for hours along the West Side Highway across from the U.S.S. Intrepid, the maritime museum on the Hudson River, where Trump will attend a ceremony commemorating the 75th anniversary the World War II Battle of the Coral Sea, and later meet with Australian Prime Minister Malcolm Turnbull.
Security is very, very tight, but hundreds of demonstrators have reportedly packed the designated areas, lifting signs and chanting and showing off Star Wars–themed anti-Trump costumes to greet the commander-in-chief.
Anti-anti-Trump protesters, some distinguished by their MAGA hats, also showed up in support of the president. The two sides briefly tussled, before being separated by NYPD officers:
The Working Families Party and Rise and Resist organized the demonstrations near the U.S.S. Intrepid. A few stragglers apparently also stopped by Trump Tower: