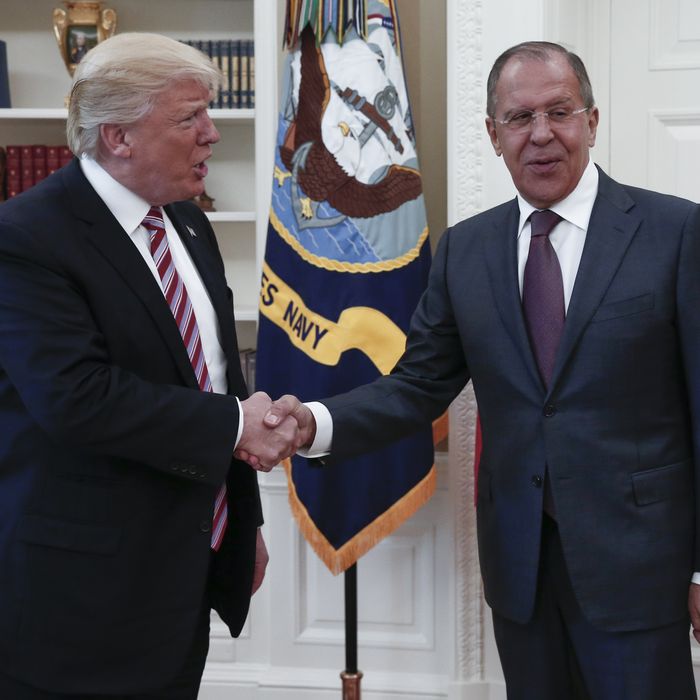 "Glad you could stop by."
Photo: Alexander Shcherbak/Alexander Shcherbak/TASS
Russian president Vladimir Putin has accused the United States of being in the grips of "political schizophrenia" following the revelation that Donald Trump revealed highly classified intel to Russian foreign minister Sergey Lavrov, reports the Washington Post. Putin has denied that Trump divulged secret information, and now says Moscow will give lawmakers the transcripts (but not audio recordings) of the sitdown between Trump and Lavrov — but only if the White House gives the okay.
Putin's latest offering comes after more details emerged about exactly how Trump ended up welcoming Lavrov to the White House. After Russia annexed Crimea in 2014, the Obama administration refused to meet with Russian foreign minister Sergey Lavrov in the Oval Office, as it would suggest relations between the two countries were back to normal. "The Russians were begging us for years to do that," a former official told Politico last week. "They were constantly pushing for it and we were constantly saying no."
Just a few months into the Trump administration, the Russians' wish was granted — possibly because the president didn't quite understand what he was agreeing to.
The Washington Post reported on Tuesday that when Russian President Vladimir Putin asked Trump to meet with Lavrov, he suggested he'd already be in the neighborhood, and wanted to drop by to talk Syria:
On May 2, eight days before Lavrov showed up at the White House, Russian President Vladi­mir Putin was on the phone with Trump and made a request. ­Putin had "new ideas" about stopping the civil war carnage in Syria, according to a senior U.S. official, and noted that his top diplomat, Lavrov, would soon be visiting the United States for a previously scheduled meeting with Secretary of State Rex Tillerson.

"Will you see him?" Putin asked Trump, according to the official, who spoke on the condition of anonymity to describe the private talks.

"Yes," Trump replied.
Putin didn't mention that Lavrov was actually scheduled to meet Tillerson during a meeting of the Arctic Council, which was taking place in Fairbanks, Alaska — 4,100 miles from Washington. Once Trump agreed to the meeting, Lavrov rearranged his plans to fly to D.C. first.
It's possible that Trump would have met Lavrov in the Oval Office even if he understood that what he was agreeing to was a significant policy shift, which had nothing to do with the Tillerson meeting.
Last Wednesday, a White House spokesman said Trump chose to meet with Lavrov "because Putin asked him to," and Trump confirmed this in his interview with NBC's Lester Holt the next day. "When I spoke with Putin he asked me whether or not I would see Lavrov," Trump said. "Now, should I say 'no, I'm not going to see him?' I said, 'I will see him.'"
Trump was arguing that meeting with foreign leaders, including Russians, is just part of his job. All signs suggest he was not aware of the complex diplomatic etiquette behind the decision, but the Post noted that Trump was probably already obligated to meet with Lavrov:
After Putin received Tillerson in Moscow last month — meeting privately with the secretary of state for two hours at the Kremlin — the United States owed reciprocity to Russia in the form of an audience with Trump for Tillerson's Russian counterpart, Lavrov. Rejecting Putin's request for a Trump-Lavrov meeting would have represented a breach in diplomatic tradition.
Since scoring a meeting was much easier than expected, it's not surprising that the Russians thought they could mislead the White House about the photographer they brought with them. But, of course, now there are much bigger concerns about what took place during Trump's chat with Lavrov.