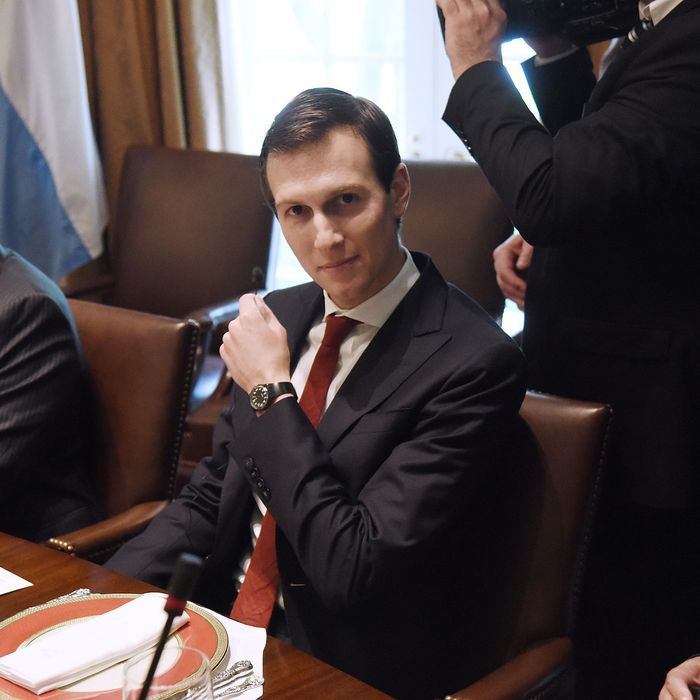 I have secrets.
Photo: Olivier Douliery - Pool/Getty Images
Trump senior adviser and son-in-law Jared Kushner may have left a key investment off his government financial-disclosure forms. According to a report in The Wall Street Journal, Kushner did not list his part-ownership in a real-estate start-up called Cadre, whose investors include a Goldman Sachs fund, Silicon Valley billionaire (and Trump booster) Peter Thiel, Chinese entrepreneur David Yu, and George Soros, the Democratic megadonor and favorite target of the Trumpian base.
The Journal also found that Kushner failed to list direct and indirect loans from about 20 lenders — including Bank of America and Deutsche Bank — adding up to $1 billion, spread out among properties he owns and co-owns.
Kushner co-founded Cadre, a real-estate start-up that connects investors with new development projects (including his own), in 2014. His brother Joshua, and friend and associate 29-year-old Ryan Williams, who is now the chief executive, are also founders. An attorney for Kushner told the Journal that Kushner "resigned from Cadre's board, assigned his voting rights, and reduced his ownership share," and that Kushner had discussed his Cadre ties with the Office of Government Ethics. His attorney said Kushner's Cadre investments would be made public in revised documents.
Cadre allegedly falls under the another Kushner business, BFPS Ventures LLC, which does appear on Kushner's financial disclosure forms. The Journal notes that, according to those forms, BFPS is valued at $50 million in "unspecific New York real-estate" and that "conflicting assets of this interest have also been divested."
Kushner divested from some of his vast business holdings, including his equity stake in 666 Fifth Avenue, to avoid conflicts of interest when joining Trump's White House. But he is still retaining about 200 assets, mostly properties that he owns, worth about $116 million, according to the Journal.