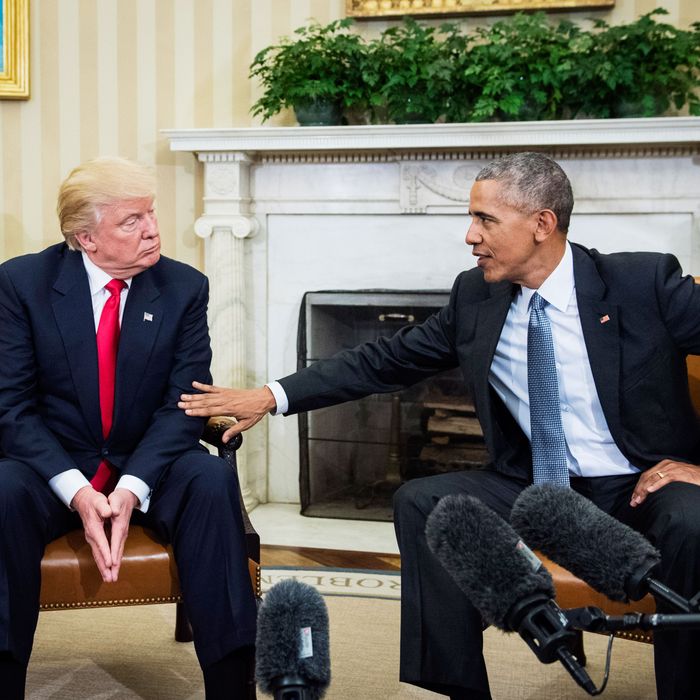 Don't do it, Donnie.
Photo: Jabin Botsford/The Washington Post/Getty Images
President Obama warned Donald Trump against hiring retired Lt. Gen. Michael Flynn to serve as national security adviser, former Obama administration officials have told NBC and CNN. The reports come hours after Trump attempted to blame Obama for the Flynn fiasco, which saw the president fire his NSA after just 24 days in White House.
Obama reportedly told Trump that Flynn was not fit for a high-level role in his administration at a November 10 meeting in the Oval Office. Flynn, who was an early Trump backer, had been fired as Obama's Defense Intelligence Agency head in 2014. Despite that history with Flynn, Trump reportedly thought Obama was joking when he told him not to bring Flynn into the White House.
The warning was about Flynn's temperament and what Obama saw as his lack of fitness for a high-level government job. It was not about his discussions about lifting sanctions with Russia, which came after the warning. Ultimately though, it was those discussions and Flynn's choice to lie about them to Vice-President Pence that led to his firing.
Trump's tweet about Flynn precedes testimony this afternoon from Sally Yates, the former acting attorney general who warned the White House about Flynn's discussions with Russian ambassador Sergey Kislyak.
This isn't the first time the Trump administration has sought to blame Obama for the Flynn embarrassment. On April 28, Press Secretary Sean Spicer suggested that the Trump transition's failure to fully vet Flynn was the fault of the Obama administration because its officials gave him security clearance.
The White House has yet to explain how Obama is to blame for Trump's hiring of Flynn. Or how Obama is to blame for Trump waiting three weeks to fire Flynn after learning that he was lying about his contacts with Russia. Or how Obama is to blame for Trump calling Flynn a "wonderful man" who was "treated very, very unfairly by the media," even after he was fired.