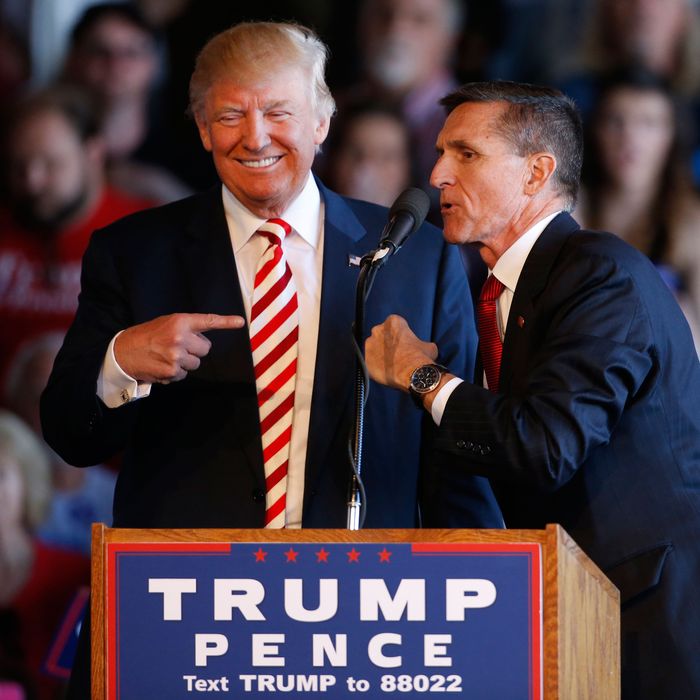 This guy!
Photo: George Frey/Getty Images
Members of the Trump campaign and Russian officials were in contact on at least 18 occasions in the final seven months of last year's presidential campaign, according to a trove of emails and phone calls. Reuters says those communications are being reviewed by congressional investigators and the FBI, whose probe into Trump's alleged ties to Russia is now being led by special counsel Robert Mueller.
Six of the 18 contacts were between Sergey Kislyak, Russia's ambassador to the U.S., and campaign officials, including former national security adviser Michael Flynn. Among other things, they spoke about "establishing a back channel for communication between Trump and Russian President Vladimir Putin that could bypass the U.S. national security bureaucracy, which both sides considered hostile to improved relations," Reuters heard from four current U.S. officials.
Other than Flynn's, the names of Trump officials involved in the communications are masked. Notably, none of the communications, which took place between April and November of last year, appear to show collusion or malfeasance of any sort. Reuters has the details on some of what was discussed, including how the countries could work together to fight ISIS and the prospects for improved economic relations.
But the seemingly innocuous nature of the conversations only makes the Trump team's repeated denials of contact with Russians seem more suspicious. And there have been many of those denials.
They began just days after the election, when Hope Hicks, now the White House director of strategic communications, said, "There was no communication between the campaign and any foreign entity during the campaign." In January, Trump simply said "No" when a reporter asked if his campaign staff was in contact with Russia. Several days later, Fox News' Chris Wallace asked Vice-President Mike Pence if there was "any contact in any way," and Pence said, "Of course not."
By February, a caveat had been added to the denial. "I have nothing to do with Russia," Trump said at a rambling press conference on February 16. Then he added, "To the best of my knowledge, no person that I deal with does."